Nielsen's 2014 report for movie theater attendance shows that moviegoers aged 12-24 are making fewer trips to the theater compared to previous years. This year's summer box office was reportedly the weakest of any summer for the past eight years. Nielsen's numbers also reveal that streaming movies and TV shows has become the preferred alternative for Hollywood's most coveted demographic. Americans 12-24 told Nielsen they saw 15 percent fewer films in theaters compared to 2013.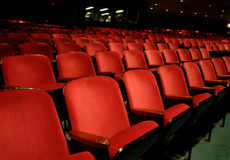 "In 2014, consumers in the demo — which Nielsen dubs 'digitals' — said they saw an average of 7.1 movies at the theater, down from 8.4 in 2013," reports Variety. "The decline extends a years-long trend among the 12-24 cohort, which saw an average of 10.3 movies in theaters in 2008. Meanwhile, moviegoing frequency among moviegoers 25 and older has remained comparatively stable over the same span, according to Nielsen."
An MPAA report released earlier this year noted similar findings: attendance among moviegoers 18-24 dropped 17 percent in 2013, and fell 15 percent among those 12-17.
While movie theater attendance has been suffering, streaming continues to grow in popularity. "About 87 percent of those 12-24 stream movies or TV shows over the Internet, and 36 percent said they stream more content now than last year," points out Variety.
Digitals are also more likely to talk about the movies or TV shows they've watched via social networks, while nearly 75 percent commonly post their opinion of a film.
Interestingly, "out of age brackets Nielsen studied, digitals are the most likely to attend the theater as a group, with nearly two-thirds usually going the movies in a group of at least three people."