After the the $99 Android-powered TV game console Ouya attracted more than 63,000 Kickstarter backers last year, many independent game developers are creating games for the device, including mobile developers who want to make the jump to televisions. The system will ship to initial backers on March 28, ahead of the public launch in June, and many developers are preparing to see their games on TVs for the first time.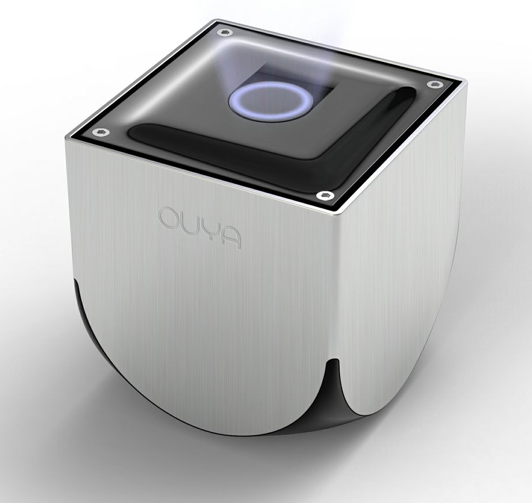 "Of the 480 launch titles compiled by one Ouya fan forum, a great number are being made by small-time developers with little to no experience making games," writes Ars Technica. "There really aren't any big budget, triple-A titles to speak of unless you count a few indie success stories that are porting their titles over from iOS and Android."
"Overwhelmingly, the Ouya's first crop of developers are regular people who see the system as their chance to break into the game industry — on a device that's geared toward people just like them," notes the article.
While it's an unproven platform, these developers are optimistic, viewing the Ouya as "a way to fulfill their dream of getting a game on their TV set. It can turn indie gaming into something bigger than it is now."
And those dreams are coming true because of the Ouya. "If the Ouya was not launching, I would still be doing mobile contracting right now," said Zachary Burke, one half of the two-man development team at Hypercane Studios. "My previous day job was mobile development… kind of the hot place to be right now." Burke and his brother have been working on their game "Rage Runner" for the past six months.
"I've always wanted to be a video game designer, since as long as I can remember," Ethan Redd told Ars Technica. The 19-year-old game developer delayed his first semester at New York University to work on producing his own title for the Ouya console — and he's doing it all by himself. "I'm actually composing the whole [soundtrack] myself and using mostly open source software right now," he explained.
The article provides details regarding four indie developers planning games for Ouya and features related video trailers.
Topics:
Android
,
Console
,
Crowdsourcing
,
Gaming
,
Google
,
Internet
,
Kickstarter
,
Mobile
,
Online Gaming
,
Ouya
,
Television
,
TV