Netflix has reached an agreement with cable companies RCN, Grande Communications and Atlantic Broadband that will allow subscribers to basically access the streaming video service as if it were a cable channel starting next week. Netflix will be added as an app to set-top boxes to provide subscribers with the option of viewing the Netflix content they would otherwise access via computers and mobile devices. The offer is only available for customers of the cable companies who also subscribe to Netflix.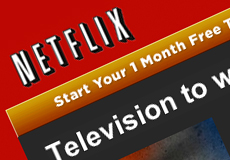 "In addition, the technology requires a cable-provided TiVo box," reports The Washington Post. "Although consumers can currently buy TiVos from retail stores that come with the Netflix app, until now cable-provided boxes lacked the Netflix functionality. In order to make the deal possible, Netflix said it had to negotiate with some of its content partners to allow streaming on cable boxes."
"We're making Netflix a channel on our lineup and in our channel guides," said David Isenberg, chief marketing officer for Atlantic Broadband. "If you're an RCN customer, perhaps in the D.C. area you would pick up your remote control, you would tune to Channel 450, and there you'd find Netflix. You'd select it and that'll launch the Netflix app. Literally, watching Netflix is as easy as changing the channel."
While specific terms of the agreement have not been released, Netflix is not expected to benefit from a dedicated Internet "fast lane" provided by the cable companies. "We currently have no plans to manage Netflix content differently on our network than any other Internet content," Isenberg said.
The deal follows experiments by Netflix with pay TV providers in Europe, part of the company's broader ambitions to compete with cable-only services.
"The entire cable television market is in the process off reinventing itself," said telecom analyst Jeff Kagan. "Watching television on TV used to be the entire pie. Now it's just one slice of it."
Topics:
Agreement
,
App
,
Atlantic
,
Broadband
,
Cable
,
Channel
,
Computer
,
Content
,
DC
,
Deal
,
Distribution
,
Europe
,
Fast Lane
,
Film
,
Grande
,
Guide
,
HBO
,
Internet
,
Isenberg
,
Kagan
,
Mobile
,
Movie
,
Netflix
,
Network
,
Online
,
Pay
,
Pay TV
,
PC
,
Phone
,
Post
,
Premium
,
Programming
,
Provider
,
RCN
,
Retail
,
Series
,
Show
,
Smartphone
,
STB
,
Stream
,
Streaming
,
Subscribe
,
Subscriber
,
Tablet
,
Telecom
,
Television
,
TiVo
,
TV
,
UK
,
Video
,
Washington