Netflix is testing a new pricing model with some of its new customers that provides streaming access to as many as four screens simultaneously, allowing household members to view different shows at the same time. Pricing ranges from $6.99 to $11.99 per month. The approach offers more ways to watch content, similar to how cable providers rent multiple set-top boxes. Netflix may also be looking for ways to curb account sharing. If successful, the new pricing could be expanded to additional customers.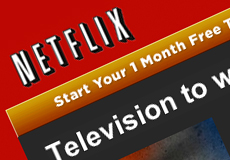 "I am sure that they have the ability to monitor device use," said Michael Pachter, an analyst at Wedbush Securities. "I admire their resolve to try to combat piracy. This is an ingenious solution."
Netflix, which currently has more than 40 million subscribers, charges $7.99 a month for its streaming service. It still runs a DVD by mail subscription service, which starts at $7.99 for one disc at a time.
The new model could be a risk if customers opt for the single-screen, $6.99-per-month choice.
"If $6.99 enables Netflix to reach more consumers than $7.99 that's obviously positive but it's hard to imagine the $1 being a major price inhibitor," said Richard Greenfield, an analyst at BTIG LLC. "If consumers who would have taken the $7.99 plan now sign up at $6.99, that all comes out of their profit margin. This is not the next pricing move investors were expecting."
"The company also said it is terminating a poison pill anti-takeover defense, effective yesterday, almost two years ahead of schedule," reports Bloomberg. "Investors aren't required to take any action as a result of the change, the company said in a statement. The poison pill, designed to make an unfriendly takeover too expensive, was adopted in November 2012 after billionaire Carl Icahn disclosed a stake in the company. The measure was set to expire in November 2015."
Topics:
Analyst
,
Bloomberg
,
BTIG
,
Business
,
Cable
,
Distribution
,
DVD
,
Film
,
Finance
,
Greenfield
,
Icahn
,
Model
,
Movie
,
Netflix
,
Operator
,
Pachter
,
Piracy
,
Poison Pill
,
Price
,
Program
,
Provider
,
Rental
,
Screen
,
Series
,
Show
,
STB
,
Stream
,
Streaming
,
Subscribe
,
Subscription
,
Takeover
,
Television
,
TV
,
Video
,
VOD
,
Wedbush