In several meetings at Mobile World Congress in Barcelona, Netflix discussed plans for content and technology plays over the coming months, including the release of a large slate of original programs. The company revealed that it's keeping an eye on virtual reality as a storytelling tool and is also about to launch a second screen experience, which has been in development for a number of years. The company has also been more forthcoming about its plans to acquire and distribute content in high dynamic range.
In discussions with TrustedReviews, Netflix product innovation executive Chris Jaffe talked about the company's plans for 360-degree video. "Right now … we think virtual reality has a great place in gaming," said Jaffe. "And we've very interested in where it could go in storytelling." Last year, Netflix launched a Samsung Gear VR Netflix app, which simulates a living room where viewers can watch Netflix 2D content on the screen.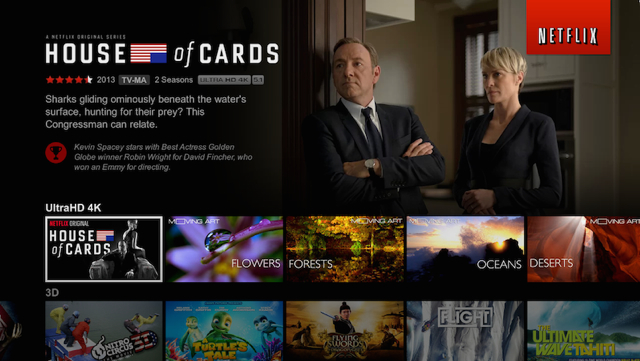 Mobile Syrup saw Netflix' demo of its iOS/Android second screen experience, including the example of screening the image and bio of an actor in a show being watched.
Original programming is on the fast track for 2016: 30 new shows this year, including new seasons of existing series such as "Orange is the New Black" and "House of Cards," 10 original movies, original documentaries and exclusive children's content.
On the tech side, Netflix plans to expand its 4K content to more than 300 hours, and put a new emphasis on HDR. Jaffe "explains that the company views HDR as the next step for the platform" and notes that, over the next few months, the company will debut "a selection of Netflix's original programming" in HDR including Season 1 of "Marco Polo" and Season 2 of "Daredevil."
Also on tap for Netflix is an overhaul of its iOS mobile app and, says Mobile Syrup, "a new in-app setting that aims to make it easier for users to manage their mobile data usage, a feature that will likely appeal to data strapped Canadian mobile users."
Related:
How Netflix's Deals for Foreign Movie Rights Are Changing the Global Film Business, Variety, 2/24/16
Netflix Has the Answer for Those Who Want to Watch TV on Two Screens, Business Insider, 2/25/16
Netflix Aims for Family-Friendly Nostalgia with New Slate, The New York Times, 2/25/16