According to World TV Production Report 2016, over-the-top services including Amazon and Netflix now rank with traditional media sources as TV titans. The report notes that, combined, Netflix and Amazon spent $7.3 billion in 2015 on programming, as much as the country of Germany. The only media outlets to best Amazon and Netflix in terms of production investments are Disney (at $11.84 billion) and NBC (at $10.27 billion). The new status reflects a boost in online series production, from 13 in 2013 to 20 in 2014 and then 41 in 2015.
Variety reports that Netflix, which spent $4.9 billion in programming last year, "outranks HBO ($2.0 billion) and Turner ($3.8 billion) and is coming up on CBS ($5.7 billion)."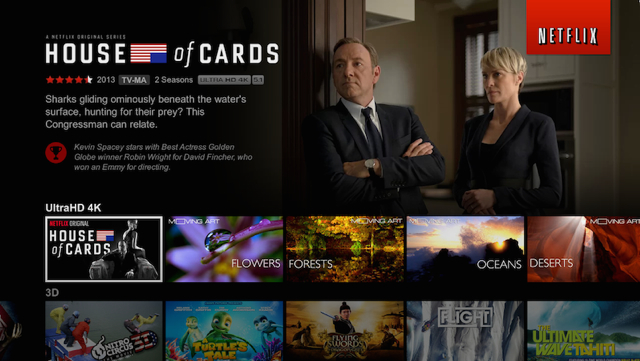 IHS Technology senior principal analyst Tim Westcott notes however that, "it's premature to declare that the era of linear TV is already over," because basic cable networks are also increasing original drama and comedy production, to 148 new scripted shows, up from 138 in 2014 and 96 in 2013. "Whatever Netflix says about the era of linear TV coming to an end, most of the buyers of new scripted content are linear TV services," he adds.
Some data suggest that linear TV production is decreasing, with "78 new U.S. network TV scripted shows [currently] vs. 148 in 2015" but IHS reports that "a strong U.S. dollar was mostly to blame for this decline," since "29 of the 40 countries covered in the report recorded year-on-year growth in programming spend in 2015," as measured by local currency.
"The primacy of the U.S. in the worldwide programming market is clear," said Westcott. "We estimate that in 2015, the U.S. represented 33 percent of worldwide expenditure on TV programming, with $43 billion invested across free-to-air, pay TV and online."
Westcott also points out that Amazon and Netflix are also now producing series in multiple territories, "so were treated as global platforms." In Western Europe, top spending markets are the United Kingdom ($10.7 billion), Germany ($7.3 billion), France ($6.6 billion) and Italy ($4.6 billion). In Asia, top spenders are Japan ($9.8 billion) and China ($8.4 billion).
Meanwhile, teenagers are flocking to Netflix, says Business Insider. Piper Jaffray, in its semi-annual survey of 10,000 U.S. teens, reveals that 37 percent of teens watch Netflix every day, compared to 3 percent watching Amazon Prime Video and Hulu, making Netflix "over 12 times as popular in terms of daily use." Second in popularity to Netflix is YouTube (at 26 percent), and then cable TV (25 percent).
Topics:
Amazon
,
Amazon Prime Video
,
Cable TV
,
CBS
,
Disney
,
Europe
,
France
,
Germany
,
HBO
,
Hulu
,
IHS Technology
,
Italy
,
Linear TV
,
MIPCOM
,
NBC
,
Netflix
,
Online Series
,
Original Programming
,
OTT
,
Pay TV
,
Piper Jaffray
,
Television
,
Tim Westcott
,
Turner
,
TV Programming
,
United Kingdom
,
World TV Production Report
,
YouTube