With Google's vast resources, Nest CEO Tony Fadell is hoping to bring home appliances and consumer electronics together in a new line of sleek connected home devices. The plan is to develop a line of smart refrigerators, TVs, light bulbs, thermostats, smoke alarms, and security cameras that can all interact with each other. In typical Google fashion, Nest wants anybody to be able to connect to their hardware, so they released a developer program for other companies.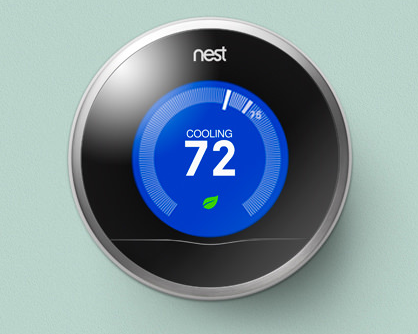 The developer program is known as "Works with Nest" and it is enabling third-party companies to make their products and services compatible with Nest devices. For example, Mercedes-Benz created an in-car feature that allows drivers to control their thermostats on the way home from work.
The Nest companies do not necessarily believe that their products should be able to connect to the Internet, but they should be able to connect to each other, like the light bulbs that will flash red when the Nest device detects smoke or carbon monoxide.
For now, Fadell and his team will continue to work on improving their existing smart thermostat and smoke and carbon monoxide detector. Nest will also give Dropcam, a security video system it acquired in June, a makeover. In the future, the entire Android hardware line may be getting a Nest revamp, too, though Fadell denied taking over Google hardware.
According to Fast Company, "The tech news site The Information reported that Google had 'dismantled almost all of the Android team's hardware initiatives in order to let Mr. Fadell effectively 'own' Google's consumer electronics operations.'"
Fadell was one of the people who helped develop the iPod and iPhone, but now he will be competing against Apple to make consumer electronics. Apple is designing its own smart home appliances with HomeKit, a software that's similar to Works with Nest because it allows third-party developers to create connected home products.
"Apple making software that anyone can connect to is a very Google play, while Google developing beautiful hardware with Nest is a very Apple play," said Adam Sager, CEO of Canary, a Dropcam competitor. "It's interesting to see these massive companies adopt each other's strategies to attack this space."