Under its deal with the NCAA, Turner Sports will manage a March Madness channel on YouTube for the tournament that kicks off March 17. This marks the first official YouTube channel dedicated solely to providing updates of the NCAA basketball tournament. The channel will feature highlights and recaps from all 67 games in addition to news, analysis and press conferences from CBS, TBS, TNT and TruTV. However, sports fans that want to watch entire games from the tournament online will require a pay TV subscription.
"For YouTube, the deal represents the kind of relatively high-value media partnership it's hoping to replicate as the site looks to diversify its revenue stream and maintain its No. 1 status as the Internet's biggest video destination," reports Variety.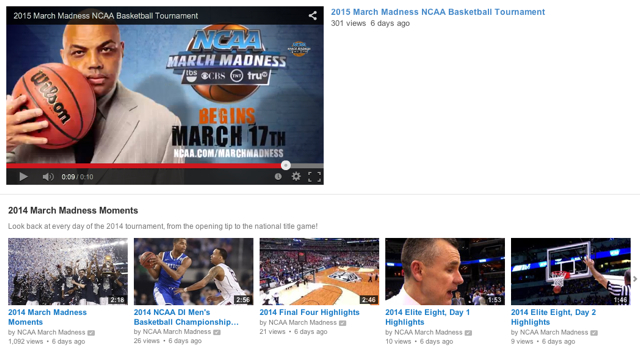 "Tapping into the power and reach of YouTube's video platform opens up new opportunities for us to grow interest and consumption of March Madness," said Mark Johnson, Turner Sports' VP of business operations.
The March Madness YouTube channel currently hosts video clips from last year's tournament. Additional content scheduled for the channel will also be available on NCAA.com.
"The digital lineup is slated to include 'Dunk of the Day,' a daily video clip presented by Oreo; a highlight reel of the best moments from this year's 2015 Naismith College Player of the Year winner, sponsored by AT&T; 'Solve of the Day,' presented by UPS, a feature that will identify potential upsets; and 'Starting Lineup,' sponsored by Reese's, a daily video update previewing that day's action," notes Variety.
Pay TV subscribers can access all games online via Turner Sports' March Madness Live.
Topics:
AT&T
,
Basketball
,
CBS
,
Google
,
Highlights
,
Live TV
,
March Madness
,
March Madness Live
,
NCAA
,
NCAA.com
,
News
,
Online
,
Oreo
,
Pay TV
,
Reese's
,
Revenue Stream
,
Sports
,
Streaming
,
Subscription
,
TBS
,
TNT
,
truTV
,
Turner Sports
,
UPS
,
Video
,
YouTube