The National Security Commission on Artificial Intelligence identified China as the first to challenge U.S. technological dominance since the end of World War II. To counter this potential threat to the United States, the 15-member commission issued a 756-page report urging a $40 billion investment in artificial intelligence research and development to be "AI ready" by 2025. The report also called for the U.S. to stay two generations ahead of China in semiconductor manufacturing. To that end, it suggested a significant tax credit for chip makers.
VentureBeat reports that, "President Biden pledged support for $32 billion to address a global chip shortage and last week signed an executive order to investigate supply chain issues."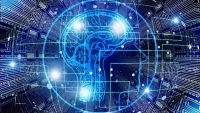 Amazon Web Services chief executive Andy Jassy stated that, "there's meaningful urgency to get moving on these needs, and it's important to realize that you can't just flip a switch and have these capabilities in place." "It takes steady, committed hard work over a long period of time to bring these capabilities to fruition," he added.
Among the commissioners contributing to the report were Oracle chief executive Safra Catz, Microsoft chief scientist Eric Horvitz, Google Cloud AI chief Andrew Moore and Jassy, soon to become Amazon chief executive.
Given that China has set the goal of being dominant in AI by 2025, the report made several recommendations pursuant to artificial intelligence, including that the U.S. "double AI research and development spending until 2026, when levels will hit $32 billion" and triple the number of national AI research institutes. It suggested that policies be set "for agencies critical to national security to allow people to report irresponsible AI deployments" and that "responsible AI leads" should be established in each national security agency and armed services branch.
TensorFlow and PyTorch were mentioned as "must-have tools in any AI developer's arsenal." The report also encouraged increased access to "open source software for federal government employees in agencies like the Pentagon."
Immigration is a "national security imperative," added the report, noting that "immigration policy could slow progress for China." The commission recommended "doubling the number of employment-based green cards, creating visas for entrepreneurs and the makers of emerging and disruptive technology, and giving green cards to every AI PhD graduate from an accredited U.S. university." In addition to AI, it named "leadership in 5G telecommunications and robotics … as national security imperatives."
The report criticized "a lack of transparency of AI systems used by federal agencies as potentially affecting civil liberties and calls for Congress to amend impact assessment and disclosure reporting requirements to include civil rights and civil liberty reports for new AI systems or major updates to existing systems."
To counter China's "techno-authoritarian governance," the report encouraged both the establishment of an Emerging Technology Coalition with allies and "high-level, ongoing diplomatic dialogue with China to discuss challenges emerging technology like AI presents in order to find areas for cooperation toward global challenges like climate change."
The commission also recommended that President Biden create a Technology Competitiveness Council, and called for "the creation of a Digital Corps for hiring temporary or short-term tech talent, and a Digital Service Academy to create an accredited university to produce government tech talent."
Topics:
5G
,
Amazon
,
Andrew Moore
,
Andy Jassy
,
Artificial Intelligence
,
AWS
,
China
,
Eric Horvitz
,
Google Cloud
,
Immigration
,
Joe Biden
,
Microsoft
,
National Security
,
NSCAI
,
Oracle
,
Pentagon
,
PyTorch
,
Research
,
Robotics
,
Safra Catz
,
Security
,
Semiconductor
,
Supply Chain
,
Tax Credit
,
TensorFlow
,
United States