Microsoft's Build developer conference got off to a bit of a rocky start on Monday. During the keynote, meant to demonstrate how the HoloLens 2 augmented reality headset could recreate the Apollo 11 moon landing in mixed reality, the presenters ran into technical difficulties. Microsoft partnered with Epic Games and Industrial Light & Magic chief creative officer John Knoll for the ambitious demo that worked well during earlier rehearsals. Despite the tech glitches during the live presentation, the HoloLens 2 remains an impressive device. A recording of the demo, captured as intended during rehearsals, is available on YouTube.
The HoloLens 2 headset was released back in February, about three years after the original headset came onto the market. This second version features the use of spatial anchors, and improvements like a "wider field of view and advanced hand gestures, some of which Knoll and [science journalist Andrew] Chaikin meant to demonstrate on stage Monday while showing off different parts of the Saturn V rocket," according to Variety.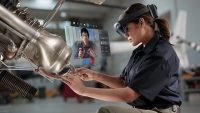 But the most significant improvement and the one presenters really hoped to highlight during the live demo, is that the device supports pixel streaming, which is "a feature of Epic's Unreal engine that allows HoloLens headsets to access high-quality visuals that are being remotely rendered," reports Variety.
Without pixel streaming, the new headset can handle somewhere around 100,000 polygons. That would be plenty for gaming, but not enough for running applications with more visual data (like a moon landing scene). With pixel streaming, it can run applications with up to 100 million polygons, which are "rendered remotely on computers or servers optimized for graphics processing," according to Variety.
The Microsoft and Epic partnership represents a desire to get ahead of the consumer AR curve. Thus far, Microsoft's related efforts have been focused on enterprise, and the HoloLens 2 remains that way at a $3,500 price point.
"However, the partnership is also meant to signal that this future may not be that far out, with Microsoft executives proclaiming that the path to consumer AR will be measured in years, not decades," reports Variety.
"This isn't about enterprise or consumer. It's about the future of all computing," said Epic Games CEO Tim Sweeney.
Indeed, as VentureBeat reports, "HoloLens 2 is aimed at things like design studies, collaboration, training, and medical analysis — and all sorts of amazing things that augmented reality enables."
Watch the recorded HoloLens 2 demo here.