Microsoft is reentering the mobile phone market with the Surface Duo, a dual-screen Android device priced at $1,399 and up. According to Microsoft chief product officer Panos Panay, the company is accepting preorders for the phone that will ship on September 10. The phone will be sold on Microsoft's website, and at AT&T and Best Buy. The Surface Duo's screens completely unfold to act as a phone or a book to provide more space for apps. The Surface Duo may appear before Samsung's Galaxy Z Fold 2, which currently has no official release date.
Bloomberg reports that Panay said the reason the company picked the Android operating system is due to "the need for apps." Its first entrée into the smartphone market, with the acquisition of Nokia's handset unit, failed, largely due to "the lack of mobile developer support."
Its OLED displays measure "5.6 individually or 8.1 inches taken as a whole." The device will have either 128GB or 256GB of internal storage, 6GB of memory, a Qualcomm Snapdragon 855 processor and, Microsoft promises, "all day battery."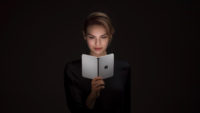 The Surface Duo will work on Verizon, AT&T and T-Mobile networks, but not internationally, which, Bloomberg notes, will disappoint those "fans of the Courier concept device that Microsoft teased a decade ago."
The Surface Duo "has 56 cables connecting the two screens with the batteries and mainboard split between the two halves … [and] a 360-degree hinge." It can be used in "vertical or horizontal orientation … [and] different apps can run on each screen or an app can be spread across both screens." Microsoft chief executive Satya Nadella, for example, said he has used the the screens "to combine the Kindle app and Microsoft's OneNote so he can take notes while reading."
Engadget reports that the Surface Duo, at $1,399, is more expensive than the Samsung Galaxy Note20 Ultra ($1,299), but is $600 less than Samsung's original Galaxy Fold and $100 less than "the reborn Motorola Razr's starting price." It adds that, "it's arguably the best-looking foldable that the technology industry has produced to date." Microsoft debuted Android hardware first for the Surface Neo foldable computer.
Elsewhere, Engadget notes that, with the Surface Duo, "Microsoft is clearly banking on the need for better multi-tasking in phones." But the reviewer notes that, "typing might be a bit annoying in certain orientations … If you click a text field on the left screen in booklet mode, you'll get a one-handed keyboard that's aligned to your left thumb" which would make it awkward to lean over with the right hand.
Surface Duo also only has one 11-megapixel camera, bucking the trend of multiple cameras. Although Microsoft said the Duo "has a portrait mode and can shoot multi-frame HDR photos … it won't be able to take advantage of different lens lengths like other premium smartphones … [and] there's no mention of any night shooting mode either."
Topics:
Android
,
AT&T
,
Battery Life
,
Best Buy
,
Courier
,
Dual Screen
,
Foldable
,
Galaxy Fold
,
Galaxy Note20 Ultra
,
Galaxy Z Fold 2
,
HDR
,
Kindle
,
Microsoft
,
Mobile
,
Motorola Razr
,
Nokia
,
OLED
,
OneNote
,
Panos Panay
,
Qualcomm
,
Samsung
,
Satya Nadella
,
Snapdragon 855
,
Surface Duo
,
Surface Neo
,
T-Mobile
,
Verizon