Microsoft introduced its first major addition in years to Office 365, the company's $23 billion/year software, by debuting Microsoft Teams, which allows workers to gather with colleagues in private chat rooms. Similar to Slack, the new feature was brought to fruition by Microsoft co-founder/now technology adviser Bill Gates. Office 365's suite of tools includes Word, Excel and PowerPoint and is delivered over the Internet. Microsoft Teams will be bundled for free with the business version of Office 365.
The New York Times notes that Office 365 subscriptions, held by about 85 million monthly business users, cost between $5 and $20 per month. According to startup Polly chief executive Samir Diwan, whose company makes polling software for Slack and Microsoft Teams, "Microsoft had an advantage because Slack did not yet have the credibility Microsoft enjoyed among the biggest companies.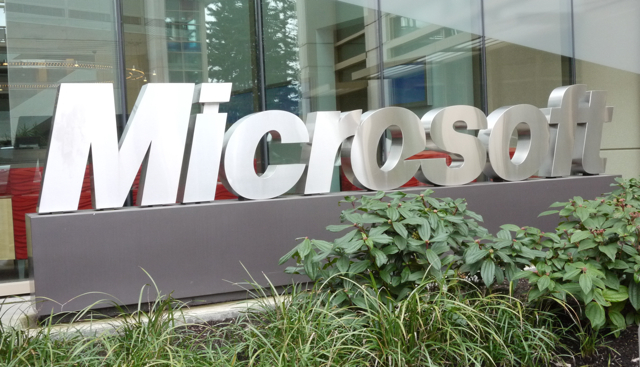 "That's where Microsoft has an inherent advantage around security," he added.
Still, notes NYT, "distribution power does not guarantee victory for Microsoft or any other big tech company," pointing out that, "Microsoft's influence with Windows did not help it vanquish Google in Internet search," and Google couldn't leverage its success in search and YouTube to best Facebook in social networking.
"The moral of the story is if you're a large incumbent with many lines of business, it is incredibly difficult to take on a smaller, focused startup that has traction in the market," said Slack co-founder/chief executive Stewart Butterfield.
So far, Slack, which debuted three years ago, counts "about four million daily active users, 1.25 million of whom are paying for the software." When it raised money last spring, private investors valued Slack at $3.6 billion. More importantly, says NYT, "Slack has been embraced by many as a more efficient way for teams to communicate than email, which is not designed for real-time conversations."
Butterfield says Slack, which can be used on mobile devices, has "helped create more transparency across boundaries inside companies, allowing, for example, marketing teams to see what sales staff are talking about and engineers to eavesdrop on product designers." Slack messages are also archived and searchable.
Microsoft Teams differs by organizing "conversations into threads, grouping messages on the same topic to make conversations easier to follow than they are in Slack's unthreaded message streams," and offering "customizable tabs" for more efficient use. Butterfield adds that Slack "plans to support both threaded conversations and videoconferencing in the future."
Topics:
Bill Gates
,
Chat Rooms
,
Email
,
Excel
,
Facebook
,
Google
,
Internet
,
Internet Search
,
Microsoft
,
Microsoft Office
,
Microsoft Teams
,
Mobile Devices
,
Office 365
,
Polly
,
PowerPoint
,
Privacy
,
Samir Diwan
,
Security
,
Slack
,
Social Media
,
Software
,
Stewart Butterfield
,
Subscription
,
Videoconference
,
Windows
,
Word
,
YouTube