DJI's Mavic Pro drone is now being reviewed and sold to consumers, and it's coming up roses. Already sold out or back-ordered in many places, the drone features numerous advanced features in a highly portable package, with a range of 4 miles and a top speed of 40 mph. The Mavic Pro has taken a page from the technology book of the larger Phantom 4, using an array of cameras to see obstacles in 3D and make quick decisions to avoid them. The small controller can hook onto a smartphone, which becomes its main screen.
The Wall Street Journal reports that the drone, used to check out a new house addition, could hover close to the roof, in manual mode, "even with significant wind." In automatic mode, the Mavic Pro can "follow along terrain, orbit around objects and track moving people" as well as be controlled via gestures.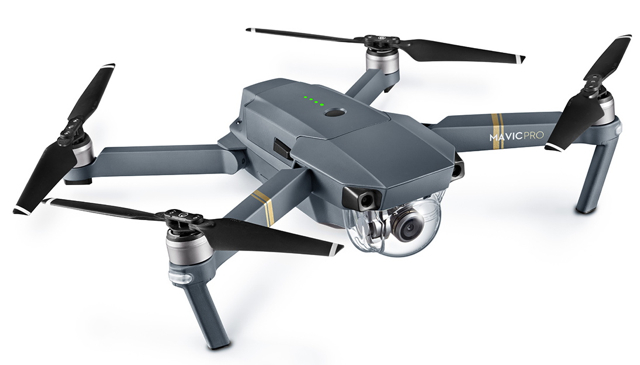 The Mavic Pro captures 12-megapixel still shots and 4K video, although WSJ notes that, "the GoPro Hero 5 mounted on the Karma has a wider field of view, and a bit more dynamic range."
Battery life is limited to a mere 24 minutes, and because the battery takes an hour to recharge, WSJ recommends users buy a spare, priced at $90. Another minor complaint is that the user has to show the Mavic Pro where to focus by tapping on the screen, otherwise the resultant video will be blurry.
The Mavic Pro also fails the reporter's "hot-dog test," when the blades destroy a wiener. There have already been some drone injuries; Cleveland Indians pitcher Trevor Bauer got 10 stitches in his pinkie finger "after a mishap with a different drone."
Whereas GoPro's Karma "stripped away many knobs and settings," adding a "very useful flight simulator to its controller," the Mavic Pro has a confusing array of flashing lights, says WSJ, adding that DJI is adding tutorial videos, and its own flight simulator.
"DJI has labored for years on the tech to make drones stable in the sky and reliable at far distances," it concludes. "With the Mavic Pro, they've hit an important new milestone: a drone that can actually fit into your life."
Topics:
3D
,
4K
,
4K Video
,
Aircraft
,
Battery Life
,
Camera
,
Cleveland Indians
,
DJI
,
Dynamic Range
,
Flight Simulator
,
Gesture Control
,
GoPro
,
GoPro Hero
,
Hero5
,
Karma
,
Mavic Pro
,
Mobile
,
Phantom 4
,
Safety
,
Smartphone
,
Trevor Bauer
,
Tutorial
,
UAV
,
Video