Livestream has released a software-based equivalent of its Studio HD500 all-in-one video switcher, which provides another mobile option for roving broadcasters. The production switcher handles up to five live HD output feeds and a real-time, multi-view preview for live transitions and audio mixing. The Studio software is not restricted to its own Web platform, so streams can be shared to Ustream, Akamai, YouTube Live and others.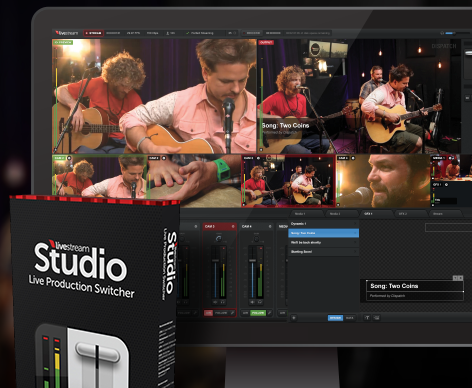 "In what's perhaps the only caveat attached to this particular version, Livestream's decided to make this release only compatible with Windows PCs that are coupled with a Blackmagic Design capture card," reports Engadget. "However, a company representative did tell us an OS X solution is indeed in the works and should be coming once the next iteration of the product gets launched."
According to the press release, additional features of the $1,999 Livestream Studio include graphics overlay and titling tools, recording capability to full resolution Blackmagic MJPEG AVI, the ability to mix video clip files while switching live broadcasts, and built-in live streaming encoder.
"The Livestream Studio is designed to perform as a broadcast-quality live video switcher when using live video output (HD/SD SDI, HDMI, Component, S-Video, Composite) and is ideal for applications such as in-venue screen broadcasting, live-to-tape productions, network and local television programming, all with or without streaming to the Web platform of your choice," notes the release.
"As more events, venues and producers decide to capture and broadcast live, the industry has been screaming for more affordable and flexible live video options," said Max Haot, Livestream CEO. "Today, we're furthering our goal of democratizing live video production by delivering what the market has been waiting for. By unlocking software out of the hardware model at a reduced cost, we're lowering the barriers to entry so anyone around the world can build their own live production switcher."