Facebook's cryptocurrency Libra has faced another setback, this time in the European Union, which plans to introduce legislation to prevent it from competing with Europe's single currency. European Commission vice president Valdis Dombrovskis, in charge of regulation, said Libra is a systemic risk to the Euro, "both from the perspective of financial stability and the protection of financial investors." In the U.S., two Democratic senators urged Mastercard, Visa and Stripe to reconsider their support of Libra.
The Wall Street Journal reports that Dombrovskis' "comments deal a further blow to the social-media giant's ambitions to transform financial services." His announcement follows in the wake of France and Germany's call in September to block the virtual currency, because "no private entity can claim monetary power, which is inherent to the sovereignty of nations."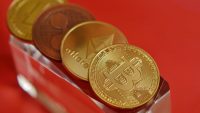 It adds that the European Commission "has launched a preliminary inquiry" into Libra, with questions on its financial stability and competitive status sent to Facebook and the Libra Association. This is the EU's "first regulatory step regarding digital currencies" and it will work closely with the Group of Seven and Group of 20 countries.
Libra Association head of policy and communications Dante Disparte noted that, "the Libra Association and its members are committed to working with applicable regulatory authorities to achieve a safe, transparent, and consumer-friendly implementation of the Libra project." A Facebook spokesman stated that Libra will be "an open platform" and the company "welcomes competitors developing their own payment systems."
British telecommunications company Vodafone Group just joined the Libra Association. Meanwhile, Switzerland's central bank is partnering with the Swiss stock exchange "to explore the tokenization of the Swiss franc."
Bloomberg reports that Senators Sherrod Brown (D-Ohio) and Brian Schatz (D-Hawaii) wrote a letter to Visa, Mastercard and Stripe that "cited news reports on the difficulty some of Libra Association members have faced in obtaining details on the organization's management and risks." ETCentric recently wrote about PayPal leaving the Libra Association, as well as Apple chief executive Tim Cook's denunciation of Facebook's cryptocurrency ambitions.
Brown and Schatz further wrote that "Congress, financial regulators and potential Libra Association member companies" are also concerned about "risks that Libra may pose, including facilitating criminal and terrorist financing, destabilizing the global financial system, interfering with monetary policy, or exposing consumers to risks currently limited to accredited investors."
The senators added that Facebook is also "struggling to tackle massive issues, such as privacy violations, disinformation, election interference, discrimination, and fraud, and it has not demonstrated an ability to bring those failures under control."
"You should be concerned that any weaknesses in Facebook's risk management systems will become weaknesses in your systems that you may not be able to effectively mitigate," they concluded. None of the companies have responded.
Related:
Facebook CEO to Testify at House Panel About Libra, The Wall Street Journal, 10/9/19
Topics:
Apple
,
Brian Schatz
,
Congress
,
Cryptocurrency
,
Dante Disparte
,
Euro
,
European Commission
,
European Union
,
Facebook
,
Finance
,
Group of 20
,
Group of Seven
,
Legislation
,
Libra
,
Libra Association
,
Mastercard
,
Money Laundering
,
PayPal
,
Regulation
,
Sherrod Brown
,
Stripe
,
Switzerland
,
Tim Cook
,
Valdis Dombrovskis
,
Visa
,
Vodafone