Congress continues to grapple with ways to provide government oversight for the cryptocurrency industry, which has exploded from $500 billion in 2020 to nearly $3 trillion today, according to CoinMarketCap. House Financial Services Committee chairwoman Maxine Waters (D-California) called out crypto's lack of accountability, saying its markets have no "centralized regulatory framework, leaving investments in the digital-asset space vulnerable to fraud, manipulation and abuse." Those testifying on behalf of virtual currency argued it speeds financial transactions, can save money, and makes a new asset class accessible to people around the world.
The Wednesday hearing, "Digital Assets and the Future of Finance: Understanding the Challenges and Benefits of Financial Innovation in the United States," was essentially a House learning session on fungible digital assets — like Bitcoin, Ethereum and Dogecoin — and their transactions.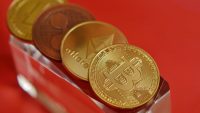 While some skeptics position crypto "as volatile, opaque and presenting risks to users and the broader financial system," per The Wall Street Journal, executives representing the emerging sector argue that virtual currencies can streamline financial transactions on a global stage and ultimately save money.
The six witnesses appeared to welcome new law crafted for the burgeoning crypto sector, but argued their industry was too different to be shoe-horned into existing U.S. financial regulations. "We believe the government should regulate digital assets under a new, comprehensive framework that recognizes the unique technological innovations" that underpin it, said Coinbase Global CFO Alesia Haas.
Critics countered that the crypto industry is trying to write its own rules, skirting the oversight to which banks, brokers and stock exchanges are subjected.
"The executives repeatedly criticized Gary Gensler, the chairman of the SEC, who has said that many crypto tokens fall under the agency's purview and should be registered as securities, which would require extra disclosure and compliance costs," reports The New York Times.
Bitcoin security and infrastructure firm Bitfury CEO Brian Brooks said supporting cryptocurrency could achieve Congress' goal of diluting the concentrated power of Big Tech. But Waters expressed concern over Big Tech's involvement in crypto, asking about Novi, a blockchain-based digital wallet created by Facebook. Paxos CEO Charles Cascarilla said the program — which began piloting in October, in partnership with Paxos and Coinbase — was new and small.