Internet users in the U.S. pay more for broadband and have fewer choices than Europeans. According to findings from the Center for Public Integrity, Americans pay 3.5 times the amount that French people do for Internet access, for example, and most U.S. residents can only choose from two Internet providers. That's because broadband companies carve out their own territories to offer service. Cable providers do the same thing, but Internet TV may finally force them to compete.
The Center for Public Integrity says the lack of competition regarding Internet providers is rooted in old telephone and cable systems. Traditionally, only two companies owned the direct lines to people's houses. Now, about 55 percent of U.S. households can only choose from one provider that offers high-speed Internet at 25 megabits per second.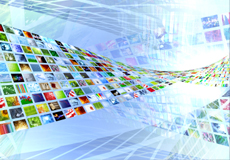 That high-speed Internet is becoming increasingly necessary to access the most advanced online applications for job training, education, and healthcare.
Because of the high prices due to lack of competition, more than 8 percent of U.S. households cannot afford broadband. President Obama has even called for more affordable Internet service for everyone so that there will be less of an economic gap between those with Internet and those without, according to The Center for Public Integrity. In France, households usually have their pick of 7 broadband providers and pay less for Internet service.
Americans have never had that many options when it comes to cable. Because it is expensive to lay cable, cable companies built their networks in their own areas. Customers could choose between cable and satellite, but never between two cable companies.
However, with Dish Network's Sling TV debut, other cable companies may be forced to start their own online TV ventures to compete with Dish.
Cable and satellite companies may have to start embracing new models because the industry has lost so many customers. More than 175,000 people left their cable and satellite companies last year, tempted by Internet TV services and fed up with the industry's reputation for poor customer relations, reports Bloomberg.
Comcast may prove to be a strong competitor in the Internet TV sphere because the company owns NBCUniversal. After 2018 when an FCC requirement is over, Comcast could offer NBC and its cable networks including Bravo, CNBC, and USA, exclusively. Regulators are also debating whether Comcast's $45.2 billion acquisition of Time Warner would eliminate one too many competitors.