JustWatch launched in February as a free search engine to help cord cutters and others find where to legally watch their favorite TV shows and movies online. The app, which recently expanded to mobile and is available on iOS and Android, allows users to filter by streaming subscription services such as Netflix and Amazon Prime Instant Video in addition to tracking rental and purchase options via services including Google Play, iTunes and Vudu. The app alerts users when new content arrives on their preferred service.
Users can then select their preferred format, add content to their watch list, set up advanced filters, categorize based on pricing, track trending shows and movies, and more.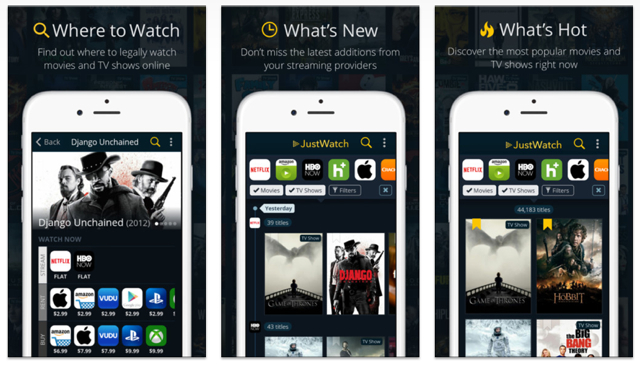 Apps and sites such as Fan TV, Instantwatcher, Vidio and CanIStreamIt offer similar functionality, but TechCrunch suggests that JustWatch differentiates itself through a simple user interface, a variety of useful search filters, and an emphasis on U.S. and international audiences.
JustWatch tracks content available through Amazon Prime Instant Video, Crackle, Epix, Fandor, HBO Now, Hulu, iTunes, Mubi, Netflix, PlayStation, realeyz, Showtime, Vudu and Xbox.
While the app is free, revenue is generated through advertisements. According to the JustWatch website: "Our business model is to help movie studios advertise to the right audience. Therefore we are building a fully integrated adtech stack to be able to target those fans. Our goal is to make movie marketing a lot more efficient for advertisers and a lot less annoying and more valuable for users."
Topics:
Adtech
,
Advertising
,
Amazon Prime
,
Android
,
App
,
CanIStreamIt
,
Cord Cutter
,
Crackle
,
David Croye
,
EPIX
,
Fan TV
,
Fandor
,
HBO Now
,
Hulu
,
iOS
,
iTunes
,
JustWatch
,
Mobile
,
Movie
,
Mubi
,
Netflix
,
PlayStation
,
Prime Instant Video
,
Realeyz
,
Search Engine
,
Showtime
,
Streaming
,
Subscription
,
TV Show
,
User Interface
,
Vidio
,
Vudu
,
Xbox