The Justice Department is scrutinizing Apple's App Store rules, specifically the requirement that app developers use Apple Pay, which takes up to a 30 percent cut. Since mid-2019, lawyers have been interviewing app developers about their experiences with Apple. Developers have pushed back by blocking subscriptions and payments on their apps or charging higher rates on iPhone apps. The DOJ's antitrust resources are focused on Google's dominance in digital advertising, which may result in a case as early as this summer.
Bloomberg reports that, "in the Apple inquiry, the government's lawyers have also asked developers about the App Store review process, during which Apple evaluates and either approves or rejects an app based on a series of guidelines."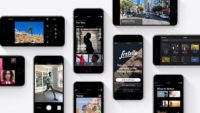 Basecamp founder David Heinemeier Hansson stated that his company has "spoken with the DOJ regarding Apple and the App Store twice." "I'm really glad that the DOJ is looking into this, because we need both legislative action, but also enforcement," he said.
Officials are also "asking questions about the Google Play app marketplace … [but] it isn't clear whether scrutiny of Google Play is part of the Justice Department's ongoing antitrust investigation into Google or whether the questions are being used to inform the Apple inquiry."
Sensor Tower reported that, worldwide, Apple and Google's app stores "generated more than $83 billion in mobile-app spending by consumers in 2019." Although they both "take as much as 30 percent of app sales … Google's Android phones allow users to access multiple app stores in addition to Google Play, which may help insulate the company from an antitrust enforcement action."
Apple states that security concerns are why it doesn't allow multiple app stores, but "fees from App Store transactions are estimated to be one of the largest contributors to Apple's services revenue, a business the company is trying hard to expand."
App developers complain that, "Apple forces its users to pay for subscriptions and upgrades within the App Store payment network" and that, in a case such as Spotify, Apple is "both a store operator and a competitor," by offering Apple Music. Apple has "loosened up some of its restrictions," including "opening up its HomePod speaker to third-party music services, such as Spotify."
It will also "allow users to set third-party email and web browser apps as their defaults on the next version of iOS … stop rejecting bug-fixing updates that violate App Store review guidelines, allowing developers to remedy such issues in a future release … [and] for the first time, let developers challenge specific review guidelines."
The Wall Street Journal reports that some app developers "break" their apps on purpose, to avoid Apple's payment system. In December 2018, for example, Netflix stopped letting people sign up for its service in the app in Apple's App Store. Tinder tried another strategy: charging a higher rate for iPhone apps, in this case $29.99 per month for a Gold membership versus only $13.49 on its own website.
Apple has a rule that prevents app developers from "list[ing] alternative prices or discourag[ing] purchasing through the App Store … [but states that] developers are free to promote other pricing outside of the App Store, including on television and billboards."
Topics:
Advertising
,
Android
,
Antitrust
,
App
,
App Store
,
Apple
,
Apple Music
,
Apple Pay
,
Basecamp
,
David Hansson
,
Developer
,
Digital Advertising
,
DOJ
,
Google
,
Google Play
,
HomePod
,
iOS
,
iPhone
,
Justice Department
,
Music
,
Netflix
,
Sensor Tower
,
Spotify
,
Subscription
,
Tinder