Facebook's Instagram debuted Reels, its short-video feature designed to compete with Chinese app TikTok. Instagram previously aped Snapchat's disappearing photos with its own Instagram Stories, which has since become hugely popular. TikTok chief executive Kevin Mayer called out Reels as a "copycat product," but Instagram director of product Robby Stein said that Instagram plans to distinguish Reels from the competition by "adapting to users." The launch takes place amid tumult over TikTok's future in the U.S.
The Wall Street Journal reports that, "the competitive landscape in short video is also becoming more crowded, with users downloading apps including Zynn, Byte, Triller and Clash on their mobile devices." Similar to TikTok, Reels will "promote the most-engaging videos from across the platform."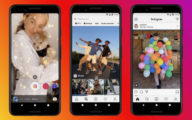 Instagram vice president of product Vishal Shah noted that the company is "taking a very creator-centric approach to ranking that will hopefully result in people getting discovered and gaining a following," adding that a measure of success would be users becoming "global superstars" based on their Reels videos. Instagram has debuted Reels in Brazil, France and India among other countries but has no metrics yet.
Although Instagram's Reels videos are limited to 15 seconds, rather than Instagram's one-minute, reviewers have found the two apps to be quite similar. In France, social media commentator Alec Wilcock dubbed Reels "not unique at all — it's a complete copy of TikTok." Captiv8 founder Krishna Subramanian pointed out that, "one of the things that keeps people producing content is the chance that you might win the lottery and go viral."
WSJ notes that Facebook launched a similar "TikTok challenger" in 2018 with Lasso, "a standalone app from its New Product Experimentation group that duplicated many of TikTok's features." Lasso was shuttered as the group prepared Reels' rollout, and Shah stated that, "Reels had been in the works long before TikTok's current distress."
Subramanian, however, pointed out that both content creators and advertisers are concerned about TikTok's future viability, making the timing of Reels' debut fortuitous.
The New York Times reports that, "Reels will be available widely starting Wednesday in more than 50 countries, including the United States, Britain and Japan … [and] will also be featured in India, one of Facebook's key growth areas." India also banned TikTok in June by authorities wanting to "crackdown on many Chinese apps."
Instagram stated that it had already seen "the rise of short-videos on its service." At ByteDance, TikTok's parent company, chief executive Zhang Yiming said that the app faces an "intense international political environment, the collision and conflict of different cultures, and the plagiarism and smear of competitor Facebook," adding that his company is enduring "complex and unimaginable difficulties."
Related:
Attack of the TikTok Clones, The Verge, 8/6/20
Instagram Reels Is a Real Threat to TikTok, Fortune, 8/6/20
TikTok Clone Instagram Reels Is Just One of the Many Times Facebook Has Copied Its Competitors, Recode, 8/5/20
'Building Up a Community First': Instagram Reels Has Little on Offer for Advertisers — for Now, Digiday, 8/6/20
Topics:
Alec Wilcock
,
Apps
,
Byte
,
ByteDance
,
Captiv8
,
China
,
Clash
,
Facebook
,
Instagram
,
Instagram Reels
,
Instagram Stories
,
Kevin Mayer
,
Krishna Subramanian
,
Lasso
,
Privacy
,
Reels
,
Robby Stein
,
Security
,
Snapchat
,
Social Media
,
TikTok
,
Triller
,
Video
,
Vishal Shah
,
Zhang Yiming
,
Zynn