Lee Lanselle of Entertainment Development Group and AsiaParks Partners Limited forwarded us a write-up from The New York Times regarding how the information-sharing habits of open source software may soon become a standard in other parts of business. Many companies are discovering the benefits of exposing things once kept secret to a larger population. The pursuit of efficiency, speed and positive change may soon even lead to companies sharing information among competitors.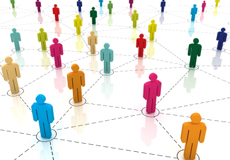 "The way people handle open source projects, by sharing a maximum amount of information, may become a standard for all kinds of corporate behavior," notes Lee.
California-based Tidemark Systems develops cloud-based software for enterprise performance management. Tidemark "now sees lots of data being shared across companies, and may soon build services for cross-company sharing," reports NY Times.
"Even sharing between departments, like finance and human resources showing data, is a cultural change," said Christian Gheorghe, Tidemark's founder and chief exec. "Like open source, one person might be able to make a fix, but there is a collective power in collaborating and knowing the group history."
This April, Tidemark plans to "incorporate the ability for a company to anonymously share information with others in its industry like how long it takes to hire a new employee," notes the article. "The idea is to build open industry benchmarks, against which people can measure their company, over time possibly improving the overall average."
Last week Skyhigh Networks announced its CloudRisk Dashboard, which it hopes will become a standard for scoring whether a mobile app is safe to use in a corporate environment (what the company describes as a "FICO equivalent for the enterprise").
"Banks are already sharing all their threat information on cybercrime," said Rajiv Gupta, Skyhigh's co-founder and chief exec. "People will want to know how they compare and how they can improve on all sorts of things."
"Tech companies in particular… are eager to make data move faster, including information on how workers are trained," notes the article. "Slack, a communications service, recently announced a real-time product for businesses that works something like a chat service, but also allows formation of groups and document sharing. The real service, however, may be the product's effect on awareness, by opening up information."
The article also cites GitHub and Asana as companies that grew up in the cloud business and envision a more open approach to information sharing.
Asana believes "its project management software could save the world 5 percent of its effort on pretty much everything," states the article. "If that sounds presumptuous, so be it. So did taking apart the computer industry by having everyone work for free."
Topics:
Anonymous
,
App
,
Application
,
Asana
,
AsiaParks
,
Bank
,
Benchmark
,
California
,
Chat
,
Cloud
,
CloudRisk
,
Collaborate
,
Computer
,
Cybercrime
,
Dashboard
,
Data
,
Document
,
EDG
,
Enterprise
,
FICO
,
Finance
,
Free
,
Gheorghe
,
GitHub
,
Gupta
,
HR
,
Human
,
Industry
,
Information
,
Management
,
Mobile
,
PC
,
Project
,
resources
,
Score
,
Share
,
Sharing
,
Skyhigh
,
Slack
,
Software
,
Source
,
Speed
,
Standard
,
Tidemark