C Space and the Variety Entertainment Summit at CES focused attention on media companies and the quest for attention from a fragmented and easily distracted audience. Six executives on the "Let's Get Connected: Titans of Audience Engagement" panel represented a cross-section of audience segments from PBS and Pinterest to Vice and WWE. Each revealed layers beyond the sheer numbers of viewers or video streams to show the value of knowing and then engaging with your audience. Moderator Gayle Fuguitt of Foursquare framed the discussion as "better channels for connecting brands and audiences."
Ira Rubenstein, chief digital and marketing officer at PBS, led off the conversation with the success of the 10-part documentary series "The Vietnam War" by Ken Burns and Lynn Novick, seen by more than 33.8 million viewers and the most streamed video premiere in PBS history.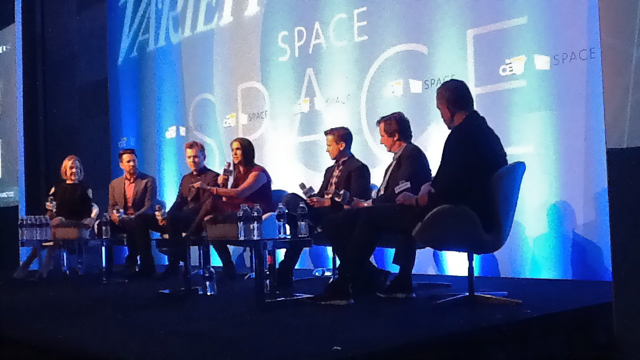 He also noted that PBS is the top kids network and they are using their position as a trusted provider of quality children's television to tie together programming and games for learning. "The explosion of content overwhelms audiences, making discovery very difficult," he said. "So, more and more people are turning to personal networks to discover entertainment."
Stephanie McMahon of WWE said that the wrestling network disrupted its own very successful linear TV model when the network recognized the explosion of growth in online video. To date, WWE has produced more than 1,500 pieces of original content. "Every experience needs to be unique, authentic, and real," she said.
McMahon added that as viewers tune in to WWE, WWE tunes into its viewers. Wrestling matches are entertainment, improvisational entertainment at that, she said, which can adapt to audience sentiment in real time.
Vice Media's Oliver Laubscher said that Vice has different shows for different platforms. Vice delivers "contextual relevance through data."
Dave Otten of JW Player sifts mountains of data to "deliver relevance and personalization at scale."
BAMTech, a Disney subsidiary spun out of Major League Baseball's Advanced Digital Media in 2015, is "committed to audience engagement," explained BAMTech Media exec Barry Tishgart.
"The camera is the new keyboard," said Pinterest's Eric Edge. Machine learning, AI, and image recognition are poised to unlock new insights at Pinterest. "Pinterest gives people a chance to make a statement about themselves. 100 million human ideas allows you to mine those ideas and understand audience," he said.
Topics:
Artificial Intelligence
,
BAMTech
,
Barry Tishgart
,
C Space
,
Cameras
,
CES 2018
,
Dave Otten
,
Disney
,
Eric Edge
,
Foursquare
,
Gayle Fuguitt
,
Ira Rubenstein
,
JW Player
,
Ken Burns
,
Lynn Novick
,
Machine Learning
,
MLB
,
Oliver Laubscher
,
PBS
,
Personalization
,
Pinterest
,
Stephanie McMahon
,
Streaming
,
Television
,
The Vietnam War
,
Variety Entertainment Summit
,
Vice Media
,
Video
,
WWE