At MWC Barcelona (formerly Mobile World Congress), Samsung Electronics and Huawei Technologies debuted foldable smartphones, betting that consumers will upgrade after five straight quarters of diminished sales. Mobile carriers, however, are dubious, since the price tag for these new phones — $1,980 for Samsung's Galaxy Fold and an estimated $2,600+ for Huawei's Mate X — is high and folding-screen technology is unproven. Some experts urge buyers to wait for superior glass-based screens, currently not ready for use in foldable phones.
The Wall Street Journal reports that Verizon Communications president of consumer business Ronan Dunne said that foldable phones are interesting but not a huge market; NTT chief executive Jun Sawada questioned the phones' durability and price. (Below is Huawei's Mate X.) At Atherton Research, analyst Jean Baptiste Su has tried out both phones, finding them both "beautiful" and "very sturdy." As to the price, he noted that new category phones — such as the first iPhone — often have higher prices.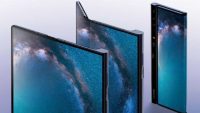 Not yet in the game with a foldable phone is Apple, which submitted patent applications for such a phone in 2011. WSJ notes that, "the company has a record of trailing rivals in features."
Canalys predicts that shipments of foldable phones initially will be fewer than two million out of a total of one billion smartphones overall. According to International Data Corp., Huawei's global sales rose 34 percent in 2018, making it competitive with Samsung for the No. 2 phone manufacturer spot, behind Apple.
Wired encourages would-be buyers of foldable phones to wait for glass, because it's "strong, and durable, and hard to scratch and easy to see through to the bright and shiny OLED pixels below." Glass can't bend enough for today's flexible phones, said Corning's Gorilla Glass head John Bayne, who noted that a "glass solution" challenges the laws of physics, requiring a tight bend radius that favors a thinner form factor.
That's why Samsung and Huawei instead rely on plastic polymers; Samsung said its Infinity Flex Display "can withstand hundreds of thousands of openings and closings." But, said the experts, it's "much less hard than glass, which makes it easier to scratch and ding up … and unlike glass, plastic will crease over time, leaving you with a large unfolding display … bisected with an unsightly wrinkle." Motorola executive Dan Dery said such displays have "a short life right away; it starts dying the day you unpack it."
Wired concludes that, "foldable smartphones won't be ready until glass is ready." Corning is developing an "ultra thin bendable glass that's 0.1 millimeters thick, and can bend to a 5 millimeter radius." Bayne noted that the technical challenge is to "keep those tight 3-5mm bend radii and also increase the damage resistance of the glass." Corning has two previous projects to rely on: Willow Glass can "roll up like a ream of paper," and its Gorilla Glass "gets its strength from an ion exchange process."
Neither are appropriate yet for foldable phones, said Bayne. "People either want better performance against a drop event or a tighter bend radius," he said. "We can give them one or the other; the key is to give them both."
Related:
Samsung Working on Two More Foldable Smartphones, Bloomberg, 3/6/19
Topics:
Apple
,
Atherton Research
,
Canalys
,
Corning
,
Dan Dery
,
Foldable Smartphone
,
Galaxy Fold
,
Glass Displays
,
Gorilla Glass
,
Huawei
,
IDC
,
Infinity Flex Display
,
iPhone
,
Jean Baptiste Su
,
John Bayne
,
Jun Sawada
,
Mate X
,
Mobile World Congress
,
Motorola
,
MWC Barcelona
,
NTT
,
OLED
,
Ronan Dunne
,
Samsung
,
Verizon
,
Willow Glass