Shortly after Samsung revealed its Galaxy Fold, a foldable smartphone, Huawei Technologies introduced its competing device, Mate X, at MWC Barcelona (Mobile World Congress). Huawei's foldable phone features one wide screen that folds in half. Similar to Samsung's Galaxy Fold, Mate X will function both folded and unfolded, run multiple apps simultaneously and be compatible with 5G networks. It also features a high price point: €2,299, or about $2,600, which is more than one-third higher than the $1,980 Galaxy Fold.
The Wall Street Journal quoted Huawei consumer device head Richard Yu as saying that the price was commensurate with the "technology and innovation" in the Mate X. He pointed out that the Mate X is thinner than the Galaxy Fold and the unfolded screen will be eight inches diagonally, compared to the Fold's 7.3-inch display.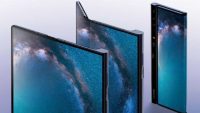 According to Yu, Huawei engineers worked more than three years to get the hinge "just right," calling it "the industry's most sophisticated hinge." Yu, however, did not specify when Huawei will roll out the Mate X to consumers. In comparison, Samsung said it will debut the Galaxy Fold on April 26.
WSJ notes that, nonetheless, the Mate X "underscores Huawei's technological strides and ambition to compete at the highest level of the smartphone market … [given that its] soaring sales are bucking an industry-wide slump, and its stable of well-received, technologically advanced devices outsold Apple for part of last year."
IHS Markit analyst Wayne Lam noted that Mate X's single foldable screen "will catapult Huawei to a true leader in smartphones, proving themselves to be worthy of comparison to Apple and Samsung." IHS Markit predicted "just 1.4 million shipments in 2019 for the flexible displays used by foldable-screen phones made by Huawei, Samsung or others," out of a total of 1.5 billion smartphones sold every year.
Canalys analyst Mo Jia also praised the Mate X as "quite ambitious." "It perfectly showcases Huawei's technological research power against its competitors," he said. The Mate X's splash will not impact the U.S., however, where Huawei is believed to be a security threat whose products could be used for cyberespionage, and telcos have "shied away from carrying Huawei devices."
Company founder Ren Zhengfei and other top executives "have embarked on an aggressive public campaign to push back against the U.S."
"We have not, will never and have never allowed for back doors in our equipment," said Guo Ping, one of the company's three rotating chairmen.