HTC Vive is now wireless, with an add-on tetherless upgrade from TPCAST, a startup with HTC's VR accelerator, Vive X. The wireless kit was for sale on Vive's Chinese website, and quickly sold out; Vive did not reveal how many units were for sale. Priority was given to potential buyers with a valid Vive serial number. Priced at 1,499 RMB (~$220) plus shipping, the wireless add-on will begin to ship in the first quarter of 2017 to those who pre-ordered. Other companies are said to be working on wireless upgrades to Vive.
TechCrunch figures that the total cost for a room-scale untethered system is about $2,000, with $800 for the Vive headset, about $950 for a gaming PC and $220 for the add-on.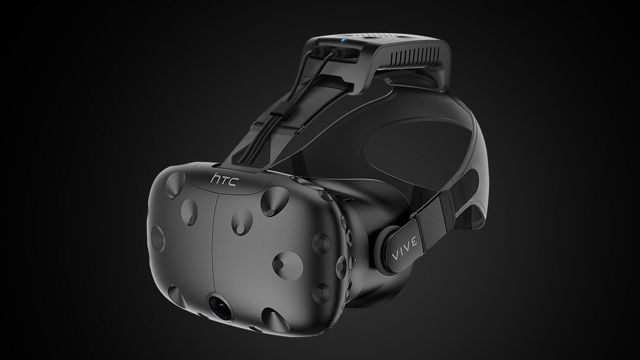 HTC's China regional president Alvin Graylin said the wireless add-on's battery is "good for around one-and-a-half hours of play," and that the experience offers "no noticeable difference" with regard to latency or other factors that might result in nausea. In the works is a bigger battery from TPCAST that "would sit in a user's pocket, rather than on the back of the headset itself" (Vive with add-on pictured above).
"We are also very proud and supportive of teams that develop great accessories and game changing peripherals to the Vive ecosystem," said Graylin. "It will allow Vive customers worldwide to gain untethered mobility in VR from their existing devices, while satisfying the biggest feature request of potential PC VR customers."
Road to VR reports that the pre-order offer on the Chinese Vive site "sold out within minutes," clear proof that "people are very interested in the idea of making the Vive wireless." Although pre-orders from international addresses were said to be available, "several people who attempted to ship it outside of China reported that they were unable."
Graylin says the next round of pre-orders "should make global orders easier."
TPCAST reveals the add-on is based on 60GHz wireless technology, with 15ms latency. The VR industry believes latency needs to dip below 20ms to be fully immersive, but TPCAST's specs don't make clear whether the add-on increases the Vive's latency with an additional 15ms or whether the whole package "fits within the existing 20ms envelope." "Details of the device" indicate that the wireless add-on could work with other headsets.
Topics:
Alvin Graylin
,
Battery
,
China
,
Computer
,
Gaming
,
Gaming PC
,
Haptic Feedback
,
HTC
,
HTC Vive
,
Immersive Entertainment
,
Latency
,
Motion Tracking
,
PC
,
Room-Scale Tracking
,
Room-Scale VR
,
Steam
,
TPCast
,
Valve
,
Virtual Reality
,
Vive X
,
VR Accelerator
,
VR Headsets
,
VR Nausea
,
Wireless
,
Wireless VR Headset