The Global System for Mobile Communications (GSMA), which represents 750 mobile operators as well as hundreds of other telecom industry companies, issued a report on 5G, finding it is now available in 24 markets around the world. The report predicts that 5G is likely to add nearly $2.2 trillion to the global economy between 2024 and 2034. Written by GSMA head of North America Ana Tavares Lattibeaudiere, the report added that, by 2025, 5G will account for 20 percent of all global connections.
TechRepublic reports that the study, described here, found that, "total mobile revenue was more than $1 trillion in 2019 and Lattibeaudiere expects that figure to rise by about 1 percent each year due to the wider adoption of IoT devices and 5G technology."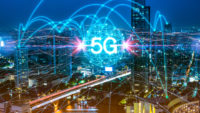 In 2019, "mobile technology and related services generated an estimated $4.1 trillion in economic value …. the value will increase to $5 trillion by 2024." By the end of 2019, 5+ billion people were subscribed to mobile services, "meaning nearly 70 percent of the world's population is now online." Lattibeaudiere said that, between 2015 to 2019, one billion people gained mobile coverage," bringing the "mobile broadband coverage gap" from 18 percent to 9 percent.
GSMA reports that it expects "about 600 million new subscribers by 2025 hailing from places like India, Nigeria, Pakistan and China." In 2019, there were 8 billion SIM connections, expected to reach 8.8 billion by 2025; IoT connections are expected to soar from 12 billion this year to 24.5 billion by 2025.
The report found that operators plan to invest $1+ trillion over the next five years in 5G, which will "add particular value to the manufacturing and financial services industries as well as the growing IoT market." Of the Chinese and South Korean consumers surveyed, 72 percent said they were "interested in … [5G's] improved mobile data speeds."
More individuals using mobile "to access an array of life-enhancing services … contribute to and catalyze the achievement of the UN Sustainable Development Goals" as well play "a key role in mitigating the catastrophic impacts of climate change."
Major issues remain for "lower and middle income countries … including affordability, consumer readiness and locally relevant uses or content that will push people to adopt the mobile Internet." The report also contains "dozens of insights" from companies that experienced 5G rollout, even a look at "how the technology will affect worldwide economies and specific industries."
The report's data covers "every operator group and network in every country worldwide — including information from leading operators, vendors, regulators, financial institutions and third-party industry players."
Meanwhile, 4G is still "a dominant force worldwide, and is now responsible for more than four billion connections, representing about half of all total connections." The report stated that 4G will likely peak "in the next few years at about 60 percent of all connections across the world." One of the issues slowing down 5G is "access to sufficient radio spectrum particularly in the sub-1 GHz coverage bands and prime 5G mid- and mmWave bands."