Google's Shoploop, developed in its R&D unit Area 120, is a video shopping platform for consumers to discover, evaluate and purchase products within the app. Shoploop general manager Lax Poojary explained that the experience is "more interactive than just scrolling through images, titles and descriptions on a traditional e-commerce site." The Shoploop videos, which are under 90 seconds, currently focus on beauty products. Consumers can save products or follow product creators for additional videos.
Forbes reports that, "the app helps consumers to spend much less effort while finding the right product." Poojary noted that if someone sees a product on social media, she will watch reviews on YouTube and then find an e-commerce site to buy it — a total of three different apps or websites.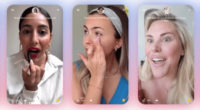 Other Big Tech companies are also launching video shopping: Amazon Live is a live streaming platform on its retail site; Facebook acquired startup Packagd, which focuses on video shopping; YouTube debuted a shoppable ad format with products to buy underneath videos; and Instagram offers its Shop destination.
Poojary reports that Google's Shoploop is currently "focused on content creators, publishers and online store owners in the beauty industry in categories such as makeup, skincare, hair and nails." "Our goal is to provide them a platform where they can review and recommend products and help others shop directly from their videos," he said.
TheNextWeb describes Shoploop as "basically like a social media platform built around product reviews and affiliate links." According to Google, "the idea for Shoploop came after its research showed that people often follow a very specific path to buying products," from finding the product to seeking reviews and then purchasing it. Shoploop combines all those experiences in one platform.
But, says TNW, "the new approach raises some additional questions." With affiliate linking, " the focus is usually placed on good content — there might be a product promoted in those videos, but the content itself is the product … [whereas] Shoploop seems to reverse that dynamic, putting the emphasis back on discovering and purchasing products, and leaving the entertainment part of it in the background."
Shoploop, it concludes, "is almost like a telemarketing channel for beauty influencers, with a sprinkle of entertainment." The app appears to currently only be available in the U.S. on mobile devices.
Google's blog post on Shoploop can be accessed here.