During a recent live-streamed conference, Google announced new Google+ photo features, including Action, Eraser and an iMovie Trailers-like Auto Awesome Movie tool. The company announced that the Google+ Hangouts app for Android now offers location sharing, animated GIF support and SMS integration. There have also been changes to Google+ Hangouts On Air, including a new Control Room menu. There are currently 540 million monthly active Google+ users.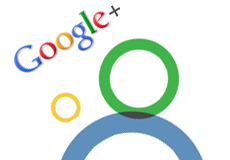 "This is the number of people with Google accounts that interact with Google+ each month in some way on any Google property. That could include leaving a comment on a blog or website that has Google+ comments embedded, commenting on YouTube, or clicking the +1 button on an article or some other Web content," explains Marketing Land.
Google has seen a 20X increase in the number of photos being uploaded to Google+. In a related post, Marketing Land highlights the Google+ Photo updates:
Auto-enhance gains a 'low' and 'high' setting that can be applied to photos or entire albums selectively.
Action is a new auto-awesome feature that blends several pictures into one, to capture motion in a single frame.
Erasure is a new auto-awseome feature that removes moving objects that may have crossed into a photo.
Movie is a new auto-awesome feature that automatically combines pictures, videos and music to make a movie. The final product can be edited, and there's also a full manual mode.
In a Google blog post, the company elaborated upon the new Google+ photo and video options: "For starters, full size backups and background sync are coming soon to Google+ for iOS. This way you can backup your photos as you take them. In addition, finding your photos is actually fun. We now recognize over a thousand different objects — from sunsets to snowmen — so you can just type what you're looking for, and find matching items in your library."
"With 540 million people active across Google each month, 300 million people active in just the stream and more than 1.5 billion photos uploaded every week, the Google+ community is growing faster than we ever could have imagined," notes the Google blog.
In a related story, Slashdot reports that Google's new Helpouts initiative is capitalizing on emerging interest in question-and-answer sites by allowing users to video-chat with experts in particular fields. The service is "capable of solving problems big (learning a new language, for example) and small (fixing that pesky garage door, or updating computer software); in addition to just chatting, users and helpers can collaboratively edit documents, share screens, and record conversations."
"Our goal is simple: help people help each other," explains Google. "We want to use the convenience and efficiency of the Web to enable everyone, no matter where they are or what time it is, to easily connect with someone who can help."
Topics:
Android
,
App
,
Apple
,
Auto-Awesome
,
Community
,
Conference
,
Control Room
,
Edit
,
Eraser
,
Features
,
GIF
,
Google
,
Hangouts
,
Hangouts on Air
,
Helpouts
,
iMovie
,
iOS
,
Library
,
Location
,
Menu
,
Online
,
Photo
,
Q&A
,
Share
,
Sharing
,
Slashdot
,
SMS
,
Social
,
Stream
,
Streaming
,
Technology
,
Tool
,
Trailers
,
Upload
,
Users
,
Video
,
YouTube