Gaming is available across multiple devices (such as consoles, phones, tablets, PCs) and numerous services, including Google Stadia and Microsoft Project xCloud, and subscription mobile gaming from Apple and Google. Most of the latest offerings have involved software and services, with new hardware releases expected for next year. For the holidays, a Microsoft Xbox One or Sony PlayStation 4 are good choices; the latest models, with better graphics and more storage than the 2013 versions, will go as low as $150 and $200, respectively, on Black Friday. Meanwhile, streaming services are improving and may replace the need for consoles among some gamers.
The Wall Street Journal reports that, "Microsoft and Sony are launching next-generation consoles in late 2020 … [that] will be faster, with even better graphics and other upgrades — though much more expensive." They will also be backwards compatible, so most games will play. Another choice is Nintendo's hybrid portable console Switch priced at $300; a new Switch Lite goes for $200, but can't be plugged into a TV.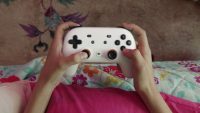 Game streaming has become good enough to "eliminate the need for a console," says the WSJ reviewer, who previewed Google's Stadia and Microsoft's Project xCloud with a Verizon Fios connection of around 80 megabits per second. "Red Dead Redemption 2" (Stadia) and "Halo 5: Guardians" (xCloud) were among the big games that played "without any noticeable delay or other hiccups." Further, "even in multiplayer experiences, the visuals were amazing, on par with how they look on an Xbox One or PlayStation 4."
Whether the streaming would be so smooth with millions of people gaming simultaneously is not yet confirmed, but "it might be a while before we get to mainstream adoption."
Subscribing to a gaming service is counterintuitive for those used to downloading games for free onto mobile devices. Stadia, which costs around $10 per month, debuts with sci-fi shooter "Destiny 2: The Collection" and street fighting title "Samurai Shodown," with subscribers getting one to two new games every month. They can also buy up to 22 games "for traditional market prices."
"Stadia works on computer web browsers" and Google's Chromecast Ultra for TVs, and Pixel phones and tablets for mobile play. A "premier" edition costs $129 and includes a three-month subscription, a controller and a Chromecast Ultra.
Microsoft's Project xCloud "works only on Android phones and tablets and is still being tested, with around 50 games," although the company hasn't announced pricing or launch date. Apple Arcade and Google's Play Pass both focus on mobile games and cost $5 per month, with "a rotating list of upwards of 100 titles."
Monthly fees do add up and "once you start, it is tough to stop … yet not being disrupted by ads or nudged to buy more virtual coins may be a worthwhile trade-off."
Related:
Google Stadia Wants to Be the Future of Gaming. So Do Microsoft, Sony and Amazon, CNET, 11/20/19
Topics:
Android
,
Apple
,
Apple Arcade
,
Black Friday
,
Chromecast Ultra
,
Computer
,
Game Console
,
Game Streaming
,
Gaming
,
Google
,
Microsoft
,
Mobile
,
Mobile Game
,
Nintendo
,
Pixel
,
Play Pass
,
PlayStation 4
,
Project xCloud
,
Smartphone
,
Sony
,
Stadia
,
Streaming
,
Subscription
,
Switch
,
Switch Lite
,
Verizon FiOS
,
Xbox One