Google is offering free gaming on Stadia, which ordinarily costs $130 for a game controller, Chromecast streaming device and game access, opening access to millions of people in 14 countries. With most people now confined to their homes, gaming has shot up, and even the World Health Organization has gotten into it, supporting a game industry initiative dubbed #PlayApartTogether. By making Stadia free, Google may also gain ground in cloud gaming against its competitors Amazon, Microsoft and Nvidia.
The New York Times reports that, because "the complex calculations required to power a video game" take place in the cloud, Stadia will allow those without a video game console or powerful PC to play "complex games … on even inexpensive laptops that don't have powerful processors, just as long as the player has sufficient Internet bandwidth," which the company defines as "at least 10 megabits per second."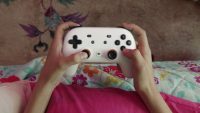 PC and Mac users just need a Chrome browser and a Gmail account; the service works on "many Android devices." The Stadia Pro tier, which provides access to 10 games and costs $9.99 per month, will be free for two months. Although cloud gaming is still "a very small segment of the $160 billion video game industry," it is likely to increase.
Apple Insider notes that, "while an iOS app for Stadia exists, unfortunately, game streaming likely won't be coming to the iPad or the iPhone anytime soon, barring massive changes to the way Apple handles apps in the iOS App Store … because Apple places strict limits on what sort apps make it into the App Store." More specifically, "App Store guidelines state that an app can't rely on streaming from the cloud."
Apple users, however, can still play the service through the Chrome browser on macOS; Stadia supports "a wide variety of gamepads, including most Xbox controllers, Dualshock 4, and the Switch Pro controller," as well as the keyboard-and-mouse setup.
CNBC reports that, during the coronavirus, use of Amazon's Twitch has increased 20 percent, "while ESPN.com traffic has declined significantly."  With regard to Facebook launching its eSports tournaments feature, Ryerson University professor Laurel Walzak noted that the move is good for both the company and its users, creating "more loyalty to the brand." She added that, "if gaming companies are going to provide people with free trials, they are going to integrate them into these services, which helps them build relationships with customers."
Amazon is offering Amazon Prime subscribers and Twitch users five free games worth a collective $100 until May 1. Ubisoft is offering free downloads of its $20 Raymann Legends until the end of March.
Verizon reported gaming usage that has increased "as high as 75 percent," and "in Italy a major telecom company reported a struggle to keep up with a 70 percent spike on its network and cited 'Fortnite' playing as a primary cause." Nintendo's just-released "Animal Crossing" sold 1.8 million copies in its first three days of availability in Japan, and "Call of Duty: Warzone," launched in March, grew to 30 million players in 10 days.
"Gaming in general is fairly recession-proof," said Niko Partners senior analyst Daniel Ahmad. "More people engaging in gaming over the year boosts the bottom line."
Topics:
#PlayApartTogether
,
Amazon
,
Amazon Prime
,
Android
,
Chrome
,
Chromecast
,
Cloud
,
Daniel Ahmad
,
DualShock 4
,
ESPN
,
eSports
,
Facebook
,
Gmail
,
Google
,
iPad
,
iPhone
,
Laurel Walzak
,
macOS
,
Microsoft
,
Niko Partners
,
Nintendo
,
Nvidia
,
Ryerson University
,
Stadia
,
Stadia Pro
,
Twitch
,
Ubisoft
,
World Health Organization
,
Xbox