Due to a lack of user demand, Facebook will shutter its physical gifting service that launched less than a year ago. Responding to higher customer preference, the company plans to shift its Gifts program entirely to gift cards and digital goods, since more than 80 percent of gifts sent on Facebook have been digital. The move is also likely due to the complicated delivery operation involving physical goods, including inventory tracking, fulfillment and customer service.
"We're really making the decision based on user feedback," explains Lee Linden, Facebook's head of the Gifts program. "The physical stuff is interesting for sure, but our goal is to build stuff that's really great for the majority of people who are using it."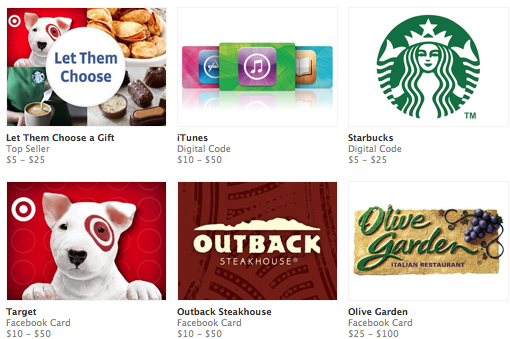 The digital-only transition and site remodel to Facebook Gifts began its rollout to 10 percent of Facebook users on Friday afternoon and is expected to be completed this week.
"Since launching Gifts in December last year, roughly 80 percent of gifts have been gift cards. So, we're now adding more digital codes and making the Facebook Card redeemable at more merchants," a spokesperson told CNET. "As a part of this shift in focus to Facebook Card and digital codes, we're also phasing out physical gifts."
"The pivot to offering digital only certainly makes sense in terms of cutting overhead and complication (not to mention eliminating a physical goods business which likely saw razor-thin profit margins)," reports Mike Isaac for AllThingsD. "Users will instead be directed to a gifts center with gift card options from businesses like Starbucks, Apple's iTunes, Target and others."
"Linden also stressed the importance of the Facebook Card — a re-loadable gift card that people can choose to pay with at a number of retail partners, though I'd posit this is somewhat more complicated than it should be," notes Isaac. "Users are directed to load money into individual retailer accounts on the card — like, say, $20 for Olive Garden and $20 for Target — instead of loading money into one account on the card and spending it wherever they choose. (This is likely due to retailers wanting the customer to be 'locked in' to spending money with their establishment.)"
Topics:
Apple
,
Card
,
Customer Service
,
E-Commerce
,
Facebook
,
Facebook Card
,
Gift
,
Gift Cards
,
Gifting
,
Inventory
,
iTunes
,
Lee Linden
,
Linden
,
Mike Isaac
,
Mobile
,
Olive Garden
,
Outback
,
Physical
,
Profit
,
Retail
,
Retailer
,
Revenue
,
Shop
,
Shopping
,
Social
,
Starbucks
,
Store
,
Target