According to a recent survey by social video marketing agency VidMob, younger Internet users in the U.S. — especially those in the Gen Z demo (ages 16-24) — are spending more time on social apps. The study found that 59 percent of Gen Z turn to YouTube more than they did last year, 56 percent spend more time using Snapchat, and 55 percent have increased their time on Instagram. Meanwhile, millennials are also increasing their time on social apps; about 50 percent use Instagram more, 46 percent have increased YouTube viewing, and 40 percent are on Snapchat more than they were in 2017.
"That makes sense," suggests digital market research firm eMarketer. "Younger users, particularly teens, are heavier users of Snapchat than their older cohorts."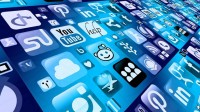 "In 2016, Snapchat surpassed Facebook as the most popular social network among U.S. teens, according to our estimates. In fact, it will continue to add users ages 12 to 17, while Facebook will continue to lose users in that cohort."
Earlier this month, ETCentric reported that teen usage of Facebook is in decline. According to eMarketer research, "This year, 11.5 million people in the U.S. ages 12 to 17 will be on the platform, down from 12.1 million in 2017. By 2022, the number of Facebook users in that age bracket will drop to 9.3 million."
The researcher also estimates that Snapchat will add 1.2 million U.S. users from the same age group by 2022.
Citing a Pew Research Center poll, Recode notes that "a quarter of U.S. Facebook users say they have deleted the app from their phones over the past year" and nearly half of 18- to 29-year-olds indicate they "have joined the #DeleteFacebook movement."
In addition, "42 percent, say they have taken a break from checking Facebook for several weeks or more. And 54 percent say they've adjusted their privacy settings over the past year," explains Recode. "This is happening as a sort of backlash rises against social media: The idea that it's a bad use of time, that the companies don't take user privacy seriously enough (notably Facebook's Cambridge Analytica debacle) and that Facebook, in particular, is too powerful."
Related:
Most Teens Prefer to Chat Online, Rather Than in Person, The Wall Street Journal, 9/10/18
Teens Are Hooked on Social Media. But How Does It Make Them Feel About Themselves?, Recode, 9/10/18
Poll: Teens Say Social Media Makes Them Feel Better, AP, 9/10/18
Topics:
#DeleteFacebook
,
App
,
Cambridge Analytica
,
eMarketer
,
Facebook
,
Gen Y
,
Gen Z
,
Google
,
Instagram
,
Marketing
,
Messaging
,
Millennial
,
Mobile
,
Pew Research Center
,
Privacy
,
Research
,
Smartphone
,
Snapchat
,
Snaps
,
Social Chat
,
Social Media
,
Study
,
Teens
,
Video
,
VidMob
,
YouTube