Foxconn Technology Group, best known for assembling Apple iPhones, will acquire Taiwan chipmaker Macronix International for approximately $90.8 million (T$2.52 billion) to boost its entry into the electric vehicle (EV) market. Foxconn earlier announced plans to assemble cars for EV startup Fisker and team up with Stellantis, manufacturer of Jeep and Chrysler, to develop in-car software. Macronix's six-inch wafers are made of silicon carbide, regarded as preferable for tasks such as fast charging.
The Wall Street Journal reports that the deal "positions Foxconn to jump into production of a certain kind of semiconductor that is quickly emerging as a leading technology in the electric-vehicle industry."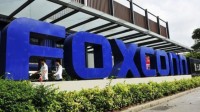 Foxconn chair Young Liu "said the plant will be able to churn out enough capacity to supply 30,000 electric vehicles each month," with one six-inch wafer supplying components for two vehicles. Tesla was among the first to use silicon carbide components in 2018, but the two companies would not reveal if Foxconn would be supplying this EV manufacturer.
Foxconn, "formally known as Hon Hai Precision Industry Co.," has been "the world's major contract manufacturer of consumer electronics" but is looking for growth areas, "especially as its largest client, Apple, ramps up its own efforts to diversify its assembly supply chain."
EVs, which require more chips than combustion engine vehicles, are a natural growth area for Foxconn. Liu revealed that, "Foxconn is considering producing Fisker vehicles in Wisconsin, where the Taiwanese company has a facility" and that its Macronix purchase will "enable it to work more closely with other chipmakers."
Reuters reports that Foxconn and Macronix said the deal would be finalized by end of 2021; the chipmaking plant in Hsinchu is currently not in operation, but Liu said it will "produce 15,000 wafers per month by 2024, which could supply silicon carbide semiconductors for 30,000 EVs a month."
Liu added that this was "only a start," and that the Hsinchu fab will become its global semiconductor hub.
Topics:
Apple
,
Chip
,
Chrysler
,
Consumer Electronics
,
Electric Vehicle
,
Fisker
,
Foxconn
,
Foxconn Technology Group
,
Hon Hai Precision Industry Co.
,
Hsinchu
,
iPhone
,
Jeep
,
Macronix
,
Macronix International
,
Manufacturing
,
Semiconductor
,
Silicon Carbide
,
Stellantis
,
Supply Chain
,
Taiwan
,
Tesla
,
Young Liu