Social giant Facebook revealed that its strategy for building viewership of Facebook Watch is paying off, saying it is experiencing "big momentum" for the platform with original shows such as Jada Pinkett Smith's "Red Table Talk" and "Sorry for Your Loss" with Elizabeth Olsen. Facebook Watch, since its launch two years ago, has a global daily user base of 140 million people who each spend an average of 26 minutes per day watching videos, nearly double from 75 million daily users in December who watched 20 minutes daily. Facebook has inked a series of partnerships and has more original content on its way.
Variety reports Facebook also revealed that 720 million people use Facebook Watch on a monthly basis, an 80 percent leap from 400 million six months ago But the company is "not doling out enough data to really get a read on how the platform is performing," such as "overall watch-time figures." Its numbers for daily and monthly users also include "everyone who watched a minimum of just 60 seconds of video."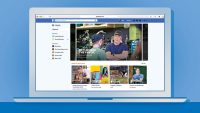 Further, the statistics have not been independently verified. Facebook director of video product management Paresh Rajwat said that "total time spent with Facebook Watch is growing proportionately with the growth in active users." "It's a new use case for us, where people are coming with intent to seek videos and sticking around to watch videos," he said.
Among the original content slated to debut in summer and fall are the reboot of MTV's "The Real World," with U.S., Mexico and Thailand versions, animated comedy "Human Discoveries," teen drama "Five Points," docu-series "Curse of Akakor," the next season of "Ball in the Family," the second season of "Huda Boss" about Instagram star Huda Kattan, the thriller "The Birch," season 2 of "Sorry for Your Loss," and the drama "Limetown."
To bring content to Watch, Facebook has also inked deals with media partners including The Players' Tribune, Whistle Sports, Tastemade, Studio71 and BuzzFeed. Facebook has also made deals with publishers to distribute Watch content, including Germany's ProSiebenSat.1 Media and Australia's Seven Studios. Facebook's Ad Breaks is being used by triple the number of partners in the last year. The company's inventory is "currently available in 40 countries, on behalf of creator partners and shares a split of the revenue."
Facebook also revealed that "the number of Pages earning over $1,000 in payouts per month increased eightfold and Pages earning over $10,000 in payouts per month tripled," although it "isn't providing context for how many partners overall are participating in Facebook Watch or the ad-breaks program."
Facebook is just now launching Ad Breaks for partners in Canada and also in five new languages: Kannada, Marathi, Punjabi, Swedish and Telugu. In preparation for spring's 2019 TV upfronts, the company also debuted Facebook Showcase "a new premium video-ad program that lets U.S. ad buyers lock in advertising at preset rates and with guaranteed ad impressions for up to a year in advance."
Topics:
Ad Breaks
,
Advertising
,
Animation
,
BuzzFeed
,
Elizabeth Olsen
,
Facebook
,
Facebook Showcase
,
Facebook Watch
,
Huda Kattan
,
Jada Pinkett Smith
,
MTV
,
Original Content
,
Pages
,
Paresh Rajwat
,
ProSiebenSat.1
,
Seven Studios
,
Social Media
,
Studio71
,
Tastemade
,
The Players' Tribune
,
Upfronts
,
Video
,
Whistle Sports