For the second time this year, Facebook is hoping to jumpstart sales of its Oculus Rift VR headset with a price reduction. Facebook's Oculus VR unit will offer the Rift, Oculus Touch motion controllers, seven VR games and more as a $399 bundle over the next six weeks. The bundle was earlier offered for $598, which was $200 less than the combined launch prices. According to Jason Rubin, head of content at Oculus, the new bundle price is meant to leverage the increased number of apps and games available for the Rift (700+ today, compared to 400 in March).
According to the Summer of Rift promo, the $399 bundle includes the Oculus Rift VR headset, Touch controllers, 2x sensors, Xbox One controller, remote and cables. The following games are available after setting up Rift+Touch: "Lucky's Tale," "Medium," "Toybox," "Quill," "Dead and Buried," "Dragon Front" and "Robo Recall."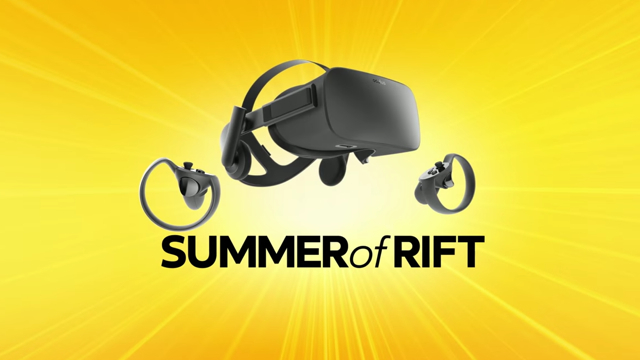 "The new, temporarily lowered bundle price doesn't account for the cost of buying a computer powerful enough to support the Rift," explains The Wall Street Journal. "It does, though, put the price of owning the high-end headset on par with its toughest competitor, Sony Corp.'s PlayStation VR. That headset requires gamers to also buy a PlayStation 4 console, which runs anywhere from $249 to $399."
"Rubin notes that the price of an Oculus-approved PC has dropped steadily over the past year, especially after Oculus introduced a lower minimum specification — you can now get one for around $650," reports The Verge. "The Rift also works with some gaming laptops now, which also makes it more appealing to people who have more money but don't want a desktop."
However, Facebook still faces increased competition from the likes of HTC and Sony. Sales of VR headsets powered by smartphones are outperforming sales of devices like the Rift.
While Oculus VR has not released sales figures, IDC estimates that 520,000 units have been sold worldwide, while HTC has sold 770,000 Vive headsets and Sony has sold 1.6 million PlayStation VR headsets.
Meanwhile, "Facebook said it has provided more than $250 million in funding to developers to drive more content for the Rift," notes WSJ. "The social-media company said it plans to dole out $250 million more over an undisclosed period."
Some analysts suggest that broader adoption of virtual reality has been hampered by the lack of a killer app or game as well as a new industry emphasis on augmented reality. To further complicate matters at Facebook, Oculus has faced recent internal problems that led to co-founder Palmer Luckey's departure in March.
Topics:
App
,
Augmented Reality
,
Dead and Buried
,
Desktop PC
,
Developer
,
Dragon Front
,
Facebook
,
Game Console
,
Gaming
,
HTC Vive
,
IDC
,
Jason Rubin
,
Laptop
,
Lucky's Tale
,
Mark Zuckerberg
,
Medium
,
Motion Controller
,
Oculus Rift
,
Oculus Touch
,
Oculus VR
,
Palmer Luckey
,
PlayStation 4
,
PlayStation VR
,
Quill
,
Robo Recall
,
Smartphone
,
Sony
,
Toybox
,
Video Game
,
Virtual Reality
,
VR Headset
,
Xbox One