Social giant Facebook is in discussions to acquire mobile navigation service Waze, according to people familiar with the matter. The purchase price has been reported by some outlets as high as $1 billion, which would rival the amount Facebook paid last year to purchase mobile photo-sharing service Instagram. The Waze acquisition would provide Facebook with the opportunity to efficiently deliver local ads and content to its 1.1 billion users.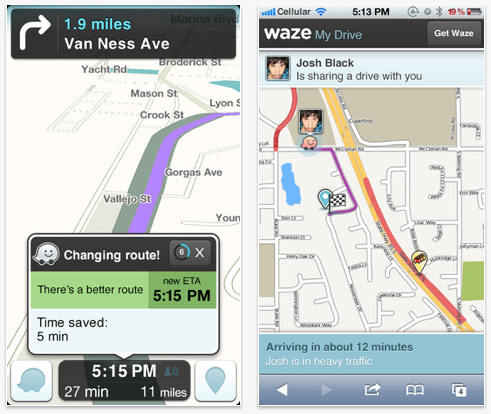 "Maps have become a crucial battleground for big technology companies, including Google, Apple and Microsoft, as consumers rely more heavily on their cellphones and companies strive to deliver more location-based advertising and services," reports The New York Times.
"Waze, which has more than 40 million users globally, is unusual in that it relies primarily on GPS data and real-time information from its users, who contribute updates on traffic, routes and even where to buy cheap gasoline," notes the article.
Other tech companies, including Google and Apple, have been watching the Israeli startup and may have an interest in acquiring the company to upgrade their own mobile mapping services.
Business Insider spoke with a number of industry sources who offered some compelling reasons why the Facebook acquisition makes sense:
1) "Waze will improve Facebook's local search, which is an increasingly important — and monetizable — application on mobile."
2) "Facebook believes maps are a core mobile application that it needs to own, even on Google devices. Waze can help it make social mapping software that users will prefer over Google Maps."
3) "Owning Waze gives Facebook more mobile usage, and might even make its core product, the News Feed, more robust."
Topics:
Acquire
,
Acquisition
,
Ads
,
Advertising
,
App
,
Apple
,
Business
,
Facebook
,
Google
,
GPS
,
Instagram
,
Location-Based
,
Maps
,
Microsoft
,
Mobile
,
Navigation
,
Phone
,
Photo
,
Share
,
Sharing
,
Smartphone
,
Social
,
Waze