ETC@USC Executive Director and CEO Ken Williams addressed the topic of advanced media technology for the home when he spoke at the NAB Futures Conference last Fall. As part of ETCentric's member exclusive features, we are pleased to present the perspectives Ken articulated to broadcasting leaders and technology innovators at the invitation-only event where attendees openly discussed the future of broadcasting and explored how businesses will thrive in this era of digital disruption. (Statistics cited reflect the timeframe in which the talk was given.)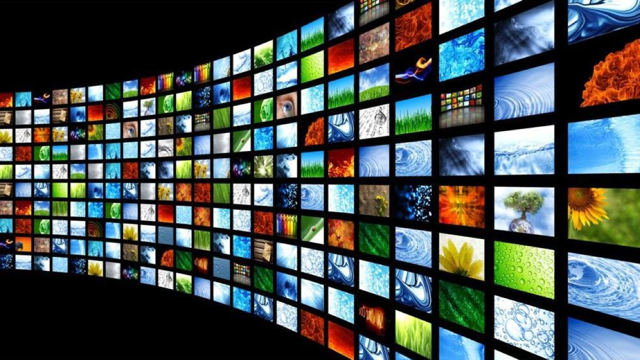 When I spoke at the NAB Futures Summit, I was asked to speak about Advanced Media Tech for the Home. As an industry, we are all witnessing the transformative impact of technological advances on the viewing audience. In fact, the very nature of content is evolving as these new technologies empower traditional as well as non-linear, immersive and multi-screen storytelling environments.
One could be so bold as to say that there is no such thing as TV anymore. Instead, we live in a world of "Screens." Screens that entertain, inform, reward, share and socially connect. A world of Primary Screens and Second Screens. Stationary Screens and Mobile Screens. And we live in a world where technology has enabled the delivery of content to these screens in ways that will forever change the business models of traditional media companies.
At the ETC, we see many visions of the media future, both past and present.
One of my favorite visions from the past comes from a 1979 book entitled Homes and Living into the 21st Century. Looking at illustrations from almost 35 years ago which envisioned the electronic living room at the beginning of this Century, at first blush it looks like something out of "The Jetsons." And they didn't get things exactly right.
But rather than focusing on what they didn't get right, I like to dwell more on what they got so surprisingly right about the future Electronic Household:
Giant Size Flat Screen TVs
Satellite Television
Consumer Video Capture
Interactive Electronic Commerce
Video Recording and Time Shifting
Ubiquity of Email
Electronic Publishing (before the Web was even a glimmer)
And Telephones with TV and Sound (Imagine that!!)
Okay, so I'm still waiting on that robot that serves cocktails…
Any business from that era that had set out to build products and services around this vision 35 years ago would today likely be in the sweet spot of our current media convergence.
In many respects, the Future is largely here already. Many of the tools and technologies which will power significant change in the media landscape already exist or can be envisioned in the near future. The seeds of transformation of the media and entertainment industry have already been sown by today's technological innovation.
The continuing convergence of computing and broadcast technology is spurring inevitable momentum towards rapid change in how content is received and how it is consumed. And these changes, while not necessarily all having automatically negative connotations for the traditional broadcast business, do pose major challenges.
All of us need to develop a point of view on the impact of technological change that is flexible and adaptable to various scenarios as different applications and solutions vie for the consumer's attention and we all confront various forecasts of multiple outcomes on the entertainment consumption front.
So are we now at a technology driven inflection point in the home entertainment environment? And how did we get there?
Television used to be so simple: three networks, limited choices, the largest aggregated audience for advertisers in the world. With a scarcity factor for advertising inventory that drove revenues and provided a basis of profitability that built some of the greatest and most dominant media giants the business world has ever known.
But no longer. New technologies have given rise to a rapidly evolving new consumer of content, "the Connected Consumer," whose viewing now includes, as a recent IBM report phrased it "social viewing, distracted viewing and viewing on demand." Today's viewers want to watch whatever they want, whenever and wherever they want. And not only do today's viewers want to watch, increasingly they want to participate and interact.
The past decade has seen a proliferation of new content delivery technology for consumers. At the same time, there have been significant improvements in the quality of traditional viewing platforms and the rise of new portable platforms such as smartphones and tablets.
With the pace of innovation churning at lightning speed, no one really knows exactly how things are going to play out.
Last spring, Henry Blodget wrote an article in Business Insider.Com entitled (with apologies to Ernest Hemingway) "For Whom the Bell Tolls? It Tolls for TV….". In that article, he compares the TV industry today as reminiscent of the first stage of the newspaper industry's collapse.
Later in the same week, Price Waterhouse Coopers released a study which suggested that despite the attention cord cutting has been receiving in the press, actual consumer behavior to date seems to be leaning toward "Cord Cuddling," with several recent studies suggesting that consumers are in fact much too comfortable and too complacent with their TV subscriptions to switch.
In the midst of such polar opposite opinions, I often find it helpful to layer in some facts. Let's look at some recent research by Nielsen. Despite all of the technological change presently and on the horizon, make no mistake about it, Americans are voracious video viewers.
The average American still watches nearly 5 hours of video each day, with 98 percent of that viewing occurring on a traditional TV set. However, Americans are undeniably shifting to new technologies that enable viewing of content whenever and wherever it is most convenient for them.
Some recent statistics from the Academy of Television Arts and Sciences:
Overnight, the hit television show, "Modern Family" draws 7.1 million age 18-49 demo viewers. But across 7 days, the show jumps to 10.2 million viewers, topping "American Idol."
Netflix alone now streams 2 trillion+ hours each quarter. 60 percent of those hours were full-length TV shows
Hulu now boasts an average viewing time of one hour and 13 minutes. And each month Hulu displays 1.6 billion ad impressions, a number which is growing.
Consider this staggering statistic. Every day Facebook viewers click to watch the equivalent of over 500 years of YouTube video.
And the definition of screens continues to expand. Most recent statistics show that 47 percent of tablet users regularly watch full-length TV shows and 88 percent use tablets while watching TV on the big screen.
Every minute Facebook users share nearly 700,000 pieces of content and Twitter users send 100,000 tweets.
To quote the Academy, "Fans want to engage, they want to chat, comment, share, vote, play games, discover, review, upload and purchase."
And of course, growth in other forms of screen-based entertainment, such as gaming, social media and user generated content are taking up a larger portion of audience time.
With all of these digital entertainment options competing with traditional broadcast, it may come as no surprise that last year, traditional TV viewership declined one half of one percentage point or roughly 46 minutes per month. (Nielsen)
More recently, Nielsen reported on the first three months of 2012 that the average consumer spent about 2 percent less time watching traditional TV than the previous year. However, they more than made up for that watching material recorded on DVRs or on the Internet through TVs, computers and mobile devices.
The phenomena known as "Cord Cutting" or "Cord Shaving" does in fact seem to be slowly gaining momentum. Currently, an estimated 5 million homes do not receive traditional TV service. But according to Nielsen, 75 percent of those homes still own a television.
What are they watching? DVDs, Netflix, Apple TV. And this seems to be a generational phenomena. At the ETC, we call this the generation of "Cord Never-Weres". These are students who have spent the past four years of their life at college only knowing streaming and on demand video services and often not even owning a conventional television set.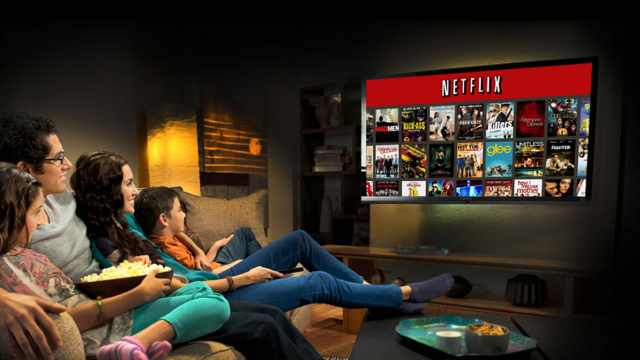 Recent studies would suggest that this generational impact could be even more profound than average statistics would suggest. In one study by GfK, the percentage of Gen Y viewers of scheduled broadcast programming had fallen from 82 percent in 2008 to 57 percent in 2012. And interestingly, the percentage of time watching on demand streaming programming for this group has risen from negligible in 2008 to 12 percent in 2012.
At this year's SMPTE conference in Los Angeles, the gulf between new technology providers and traditional broadcast providers was illustrated by contrasting visions of the future presented by the morning and afternoon keynote speakers.
In the morning keynote, Anthony Wood, CEO of Roku, the successful video streaming company, sketched a vision of the rapid decline of linear, scheduled content distribution and even the complete demise of the DVR in favor of on-demand streamed content services, which of course his box enables.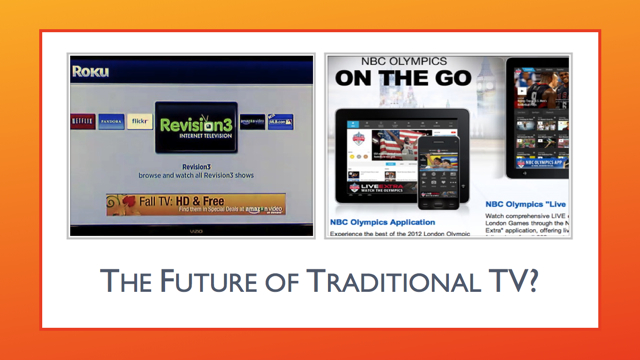 Later that day at lunch, Darryl Jefferson, head of engineering for NBC/Universal's Olympics coverage, described the record breaking Olympics viewership achieved by NBC, both on its traditional scheduled broadcast times as well as multiple alternative Web-based platforms and declared that traditional television is alive and well.
With that background on the changing landscape of television, let's take a closer look at the impact on the home tech environment.
First of all, there have been significant improvements and enhancements in the nature and quality of the viewing experience.
High Definition is becoming ubiquitous. In the latest consumer surveys by Nielsen released in October, over 75 percent of homes now have HD televisions, marking a 14 percent increase over 2011. Additionally, 40 percent of homes have more than one HD set.
The proliferation of multimedia capable alternative screens is undeniable and incredibly rapid.
In a study by Deloite, they found that 49 percent of their respondents own multimedia capable smartphones and while only 27 percent currently own a tablet device, 49 percent said they intend to own one within the next year.
Here are some other statistics on the current state of basic media and home entertainment equipment penetration:
86 percent have a standalone DVD player in the home
58 percent have a video game console
52 percent have a computer network router in the home for wireless
44 percent have a DVR
31 percent have a Blu-ray player
12 percent have their TV connected to the Internet and view online content on their TV
In this same poll, they tracked changes over the past 5 years in what entertainment appliance or technology consumers ranked in their personal top three. There was some interesting movement in this area.
Tablets went from not existing 5 years ago to 26 percent of respondents now considering them in their top 3. Not surprising, the biggest jump was multimedia smartphones, climbing to 54 percent from 16 percent. And flat panel televisions rose from 45 percent to 60 percent.
Tablets were broadly considered content consumption devices, rather than creation devices, with less than 25 percent of tablet owners interested in using a tablet for creation of content. In another survey, 43 percent of those queried said that their tablet has become a more important entertainment device to them than their television at home.
27 percent of the Deloite respondents considered home wireless networks in their top 3 most valued entertainment device as compared to 17 percent five years ago. The increase of homes with wireless Internet combined with wireless set-top boxes means that literally every room in the home can become a television viewing environment.
The phenomena of portability and mobility is not just an out of home technology, but increasingly impacts the home viewing experience as well.
Let's take a closer look at televisions.
Internet TV, also referred to as Broadband TVs, Smart TVs or Connected TVs, continues to evolve. Samsung's smart TV, for example, features dual-core processors similar to those found in tablets, allowing for improved user experience while using apps on the TV. LG has now integrated Google TV 2.0 into their sets so there is no need for an additional set-top box. This increased penetration of Web enabled Televisions, combined with streaming set-top boxes and game consoles as media hubs sets the stage for further erosion of scheduled broadcast viewing.
Currently, approximately 20 percent of televisions shipped in North America are Internet capable TVs and American households consume the highest levels of Internet video in the world, averaging 30GB per household every month.
3D television continues to be pushed in various forms by the consumer electronics companies. Both of the mainstream 3D technologies, Active and Passive, require users to wear special eyeglasses while watching the video playing on the TV. Many in the industry feel that widespread adoption of 3D in the home will be slow to take off until there is a glasses free 3D solution that allows the viewer a 3D experience without wearing any glasses at all. A number of companies are working on this solution. At last year's NAB convention, Dolby debuted a particular impressive glassless technology prototype.
Perhaps equally problematic is the limited amount of content for current 3D sets. While a number of broadcasters announced plans at last year's CES show for 3D enhanced programming much more needs to happen on the content side. The real opportunity lies in the re-mastering of library content for 3D. However, the processing cost of this post-production activity, at $25,000 per minute for acceptable "Hollywood Quality" 3D, remains prohibitive for all but the highest value library content.
For those who value a truly immersive 3D "Screen" environment, there are now many examples of a "head mounted" 3D display, which creates the perception of 3D using eyeglasses with small video screens, one for each eye.
The ETC is deeply involved in the evolution of Ultra High Definition Television. Ultra High Definition is variously described as initially 4K, with a longer term migration path to as high as 8K.
8K, the higher resolution version of UHDTV means the total display resolution becomes 16 times that of today's current HDTV, by providing 7680 pixels horizontally and 4320 vertically, and delivering 33.2 megapixels. Driven by the Asian Consumer Electronics industry as well as the EBU, initial 4K standards have been established. While there is a great deal of work that needs to be done to deal with the implications of 4K, this technology is moving forward quickly.
One of the drawbacks of this early product introduction is that there is virtually no content that can truly take advantage of the super high resolution. But these new sets take this into account, being capable of up-converting what people are already watching. So that means Blu-ray, Netflix, cable, video games play well and look great, albeit not as good as true 4K. The new sets will have smart TV apps, Internet connectivity and 3D capabilities with lightweight passive 3D glasses.
You may question whether consumers will see the need for 4 times the number of pixels as their current HD television set. In reality, a viewer's visual acuity is such that many will not be able to notice a significant difference on small screens or close up. However, on a screen size of 60 inches or larger, the difference 4K makes begins to be markedly observable and the clear trend for consumers is towards the larger screen. And true 4K broadcasting is clearly on the way. Korea currently plans on providing 4K broadcast capability when it hosts the 2018 Olympics in Pyeongchang, South Korea.
There are significant advances in large screen viewing. A little less than two years ago, Panasonic debuted the world's largest plasma TV. It was 12 feet wide, 6 ½ feet tall and measured 152 inches diagonally. And it cost a whopping $500,000. While many considered this to be a giant publicity stunt, technical advances in the flat screen video technology arena are moving very quickly apace.
A number of consumer electronics firms have been working on OLED, or Organic, Light Emitting Diode technology for larger and higher quality flat screens that could be flexible and even rollable if need be. Compared to a typical LCD or liquid crystal display, an OLED TV is thinner and lighter, uses less power and provides a much higher contrast ratio to display deep black levels. Samsung has created flexible screen prototypes that are 0.2 millimeters thick. Just as a point of reference, copy paper in your Xerox machine has a thickness of 0.1 millimeters. Samsung is introducing flexible OLED screens commercially next year.
Even more exciting research is being done on an entirely new screen technology called QD, or quantum dot technology that can be used to make ultra thin televisions. Quantum dot technology is light emitting particles that are 100,000 times smaller than the width of a human hair, able to be printed onto flexible plastic sheets that can be rolled up or printed onto large sheets to create giant screens.
The chief engineer at Nanoco, one of the companies doing trail-blazing work in this new technology was quoted as saying, "It is likely that these will be small personal devices to begin with. But something else we have been looking at is reels of wallpaper or curtains made out of a material that has quantum dots printed on it."
So just imagine the viewing experience of the future influenced by the convergence of Ultra High Definition being displayed on a wall in a room that has literally been covered by video wallpaper. And when screen real estate has expanded to this degree, expect that the second screen experience will expand to multiple embedded screen-in-screen applications as well.
In addition to screen size and resolution enhancements, there is important work being done by the CE industry, and by tech savvy film directors such as Jim Cameron, Peter Jackson and Doug Trumball, to create images that better match the way our visual system sees them. These experiments, involving higher frame rate image capture and display and significantly more dynamic contrast ratios will provide future images that rival reality. Peter Jackson's "The Hobbit" was shot and screened at 48 frame per second 3D.
Along with this incredibly immersive video experience, Dolby, DTS and others have big plans for an equally immersive home audio experience. 5.1, 7.1 are standard, but 10.1, 11.1 and in the future even 20.1 are on the way. These companies are hard at work developing true 3D sound systems for the home.
Already, consumers are taking advantage of the fact that today's current television audio home cinema audio capabilities are often the highest quality audio playback installations in the home. Roku reports that the second largest playback on their over the top streaming system is the Pandora music service.
So the viewing environment in the home continues to evolve in rich and dynamic fashion. At the highest end we are headed towards extremely immersive environments. At the same time multiple screens offer up the prospect of non-traditional forms of entertainment while mobility turns every inch of the home into a potential viewing environment.
But as important as the evolution of the home viewing environment is, equally, if not more important are the dramatic changes in the delivery of content as well in some cases, the very nature of that content.
Let's talk a bit about the evolving landscape of media delivery to the home.
Consumer attitudes and behavior are shifting rapidly in relation to entertainment content consumption.
In terms of methods of viewing television content, while the number of people watching their favorite television shows at their scheduled viewing time stayed relatively stable over the last five years at 71 percent, those who also view from a free online site rose from zero to 22 percent, those viewing from a show's Internet site rose from 14 to 21 percent, those viewing on a DVR rose from 25 to 35 percent and those using on demand features rose from 17 to 26 percent.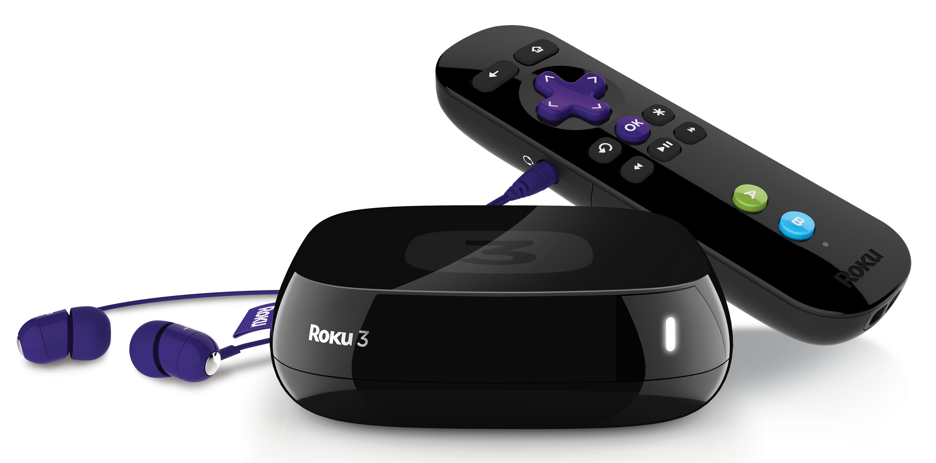 While there are specific applications and hardware provided by companies such as Roku and Apple TV, by far the greatest stimulus for the market penetration of streaming broadcast consumption are the various game consoles. The importance of this phenomena can't be overrated, as evidenced by the stream of product enhancement announcements that came out of the recent E3 Game Expo tradeshow. All three of the major gamer players, Sony, Microsoft and Nintendo announced major new partnerships for non-game content available on their respective devices, with significant content players such as NBA, NHL, Nickelodeon, Univision, ESPN, MLB, Amazon, Netflix, Hulu Plus and others affiliating with one or more consoles.
The Xbox 360, Nintendo Wii and Sony PlayStation have truly become entertainment hubs, multimedia devices where one can rather seamlessly engage in both linear and non-linear content consumption experiences over the Internet. In fact, Leichtman Research reports that game consoles are now the most popular way to watch content from the Internet on a television set.
It was interesting to hear Microsoft announce at the last E3 that Xbox 360 owners now spend more time streaming video and listening to music than playing games.
More recently, Microsoft signaled its intention to be more of a content player by announcing the creation of a new Microsoft Xbox Studio, headed up by Nancy Tellem, the longtime entertainment president of the CBS Network, whose mission is to "develop both linear and interactive content, both longer form like television, and shorter form."
The other major gamers made similarly forward looking announcements. Nintendo introduced the next generation of its Wii console, the Wii U, with a new tablet-like device for controlling games and potential second screen integration. Plus, the Wii U gamepad will be able to convert to a universal remote with the press of a button.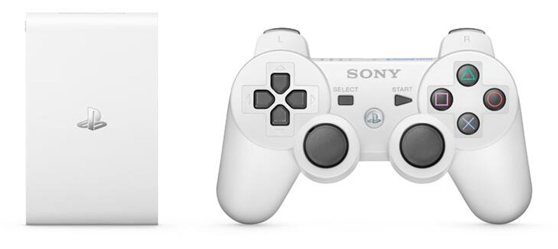 Sony also innovated, with new ways to use its PlayStation Vita, a touch screen portable game player, as a controller on the PlayStation 3.
Content companies have begun to develop sophisticated applications to purposefully create a deeper engagement with the viewer through second screen content. These apps can take the form of added value content, contests, trivia, behind the scenes footage, interviews, statistics, different camera angles, additional footage, voting on plotlines, social comment and posting to fan-based networks and individual accounts.
A number of second screen apps now provide for screen-in-screen viewing either on the main screen or a subdivided tablet.
Some second screen applications are highly interactive. The winner of the Emmy for Original Interactive Program, "Dirty Work," is a dark comedy featuring a crime scene clean-up crew. In addition to added value material on the show, the second screen application includes telephone calls to your cell, text messages and emails as well as other viewer input to add an interactive layer of depth to viewing the show.
The much talked about Transmedia experience is beginning to be realized in these groundbreaking, early second screen applications. The increased interaction with content on a non-linear viewing basis is beginning to show the possibilities of the gamification of television content.
Personal Cloud Based Entertainment Platforms have emerged, with applications, devices and download services that enable consumers to buy and store content in Digital Storage Lockers. Several of the major studios, including Sony, Paramount and Universal, launched the UltraViolet consortium for their high value movie content.
Consumer Generated Media Platforms are becoming a major factor in television consumption.
YouTube has made major investments to launch other networks, seeding dozens of channels with their initial investment of $150 million and more recently this summer doubling down with another $200 million. Of the 100 initial new channels YouTube created last year, fully 20 of them are now achieving 1 million or more views a week.
Media Discovery and Recommendation Engines will become increasingly important in this new "on demand" content world, where content choices are almost unlimited. Increasingly, the consumer will need to navigate a content universe where user generated content competes with long tail and niche content, where traditional high value content creators such as studios and networks are being joined by large production funds created by companies as diverse as Microsoft, Netflix, Amazon, Yahoo and YouTube.
This cluttered on-demand landscape will require content recommendation engines that utilize "Big Data analytics" on viewer consumption of all types of content to make recommendations. Yes, this has been tried before with mixed success. But in our current era, data is being accumulated on the Web, through viewing and purchases, at an unprecedented level. Big Data analytics will increasingly be deployed to attempt to personalize content recommendations and provide a more curated approach to content selection.
And count on the continued emergence of voice activated and gestural recognition control of this Next Generation Media Consumption environment. The viewer literally becomes the remote, with products such as Microsoft's Kinect controller, LG's new remote which functions as a "magic wand" or Samsung's gestural scrolling capabilities.
We have seen a remarkable implementation of technology in the broadcast space. And while some may see traditional broadcast as under relentless attack, the core business has been weathering the storm remarkably well. But this is certainly not a time for business as usual or complacency. The disruptive distribution technologies that exist today pose real challenges to viewership models of the past and only through aggressive, adroit business strategies will today's mass media companies maintain their positions.
Some of the top leaders at major companies are actually quite bullish on the future. But it depends on how you define the TV home and your willingness to serve that newly defined home through multiple platforms. And it's not just enough to adopt these platforms. There will need to be investments in technology and standards that allow content to be tracked and measured across multiple networks, on multiple devices and through a whole new evolving ecosystem of monetization options.
Bob Iger, CEO of the Walt Disney Company, put it well, I thought, in a recent interview featured as part of a CNBC special entitled "The Future of Television."
He said, "The big picture philosophy is not to look at the business as one platform and then another platform and another. It's to look at it first as the investment in and the creation of branded, high quality intellectual property. And then to take advantage of platforms, old and new, present and in the future, to reach as many people as possible. Not just to monetize the product, in our case, but to build brands and to build a tighter relationship with the customer."
I couldn't agree more.
Topics:
3D
,
4K
,
ATAS
,
Broadcast
,
CES
,
Conference
,
Connect
,
Convergence
,
Disruption
,
E-Commerce
,
E3
,
ETC
,
Future
,
Futures
,
Gaming
,
HD
,
Innovation
,
Interactive
,
Ken Williams
,
Mobile
,
NAB
,
Nielsen
,
OLED
,
PwC
,
Satellite
,
Second Screen
,
Share
,
Smartphone
,
Social
,
Social Media
,
STB
,
Streaming
,
Summit
,
Tablet
,
Television
,
Time-Shifting
,
TV
,
UGC
,
UHD
,
USC
,
Video
,
VOD