During ETC's Virtual Reality Summit at NAB 2016, ETC VR/AR program lead Phil Lelyveld explained the continuum from augmented reality to virtual reality, adding that most of what we'll be seeing is a mixed or blended reality. VR is predicted to be worth a tremendous amount of money: Goldman Sachs estimates $18.09 billion in entertainment by 2025, and DigiData puts that number at $30 billion. Among the top things that consumers would like to do with VR now, according to Ericsson ConsumerLab, is examine items when online shopping.
Fifty-seven percent want VR movies, explained Lelyveld, and 55 percent want sports from any angle. Among the high profile current use cases, Toms Shoes on Abbot Kinney is already using VR in a retail store environment; director Robert Stromberg created "The Martian" VR experience; Samsung partnered with Six Flags to add VR to roller coaster rides; and the U.S. presidential debates were covered in VR.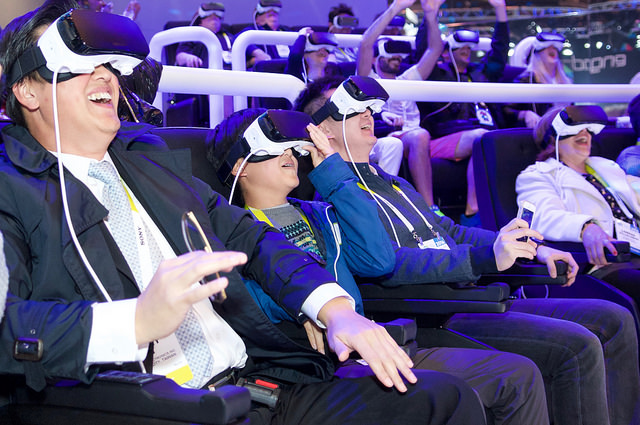 The New York Times, Des Moines Register, Vantage.tv, Endemol are all getting involved, and potential genres include esports and gaming competitions, VR talk shows, travel and tourism, HR and recruiting and consumer education.
With regard to technology, said Lelyveld, ongoing debates are whether to shoot in 2D or 3D and whether to capture native 3D or algorithmic 3D. "There are advocates on both sides," he noted.
Stitching to create a continuous image and audio are two other major technical issues. He also pointed out Lytro Cinema lightfield camera, which has great potential for volumetric VR in the future. Lelyveld also introduced the concept of presence — the idea that the user is actually in the VR world.
"The more senses you engage, the better off you are," he said. "You have to establish rules and then not break them. The ultimate VR story will be one that knows you're in the story."
Social VR may be the killer app. "You can go and meet up with human beings who are avatars in the space and watch a movie as a group experience," said Lelyveld, who noted that Facebook is working on this application. "It can be extremely engaging."
Today, people can experience VR at its simplest level as Magic Window, a 360-degree world on a smartphone or tablet. Next up is phone-based mobile VR (Cardboard, Gear); head-mounted displays (Oculus Rift, HTC Vive); and group VR/location-based VR.
Financing VR is a work in progress; advertisers don't yet see the reason, but Time Warner and Nielsen are conducting a study on how VR affects the subconscious to discover that impact. But even in these early days, said Lelyveld, there are VR advertising agencies; River Studios and Penrose Studios are raising money to create new VR experiences; and UTA signed digital content studio Secret Location, to expand its business in both nontraditional and traditional media.
"The modern era of VR is less than three years old," concluded Lelyveld. Paraphrasing Q Department chief executive Jacqueline Bosnjak, he added, "In VR storytelling, the inherent limitations of gaming don't apply. We need to bring cinematic visual and audio craftspeople into this field."
"Consumers buy experiences, not technologies," he noted.
Topics:
Augmented Reality
,
DigiData
,
E-Commerce
,
Endemol
,
Ericsson ConsumerLab
,
ETC@USC
,
Goldman Sachs
,
Jacqueline Bosnjak
,
Movie
,
NAB 2016
,
Nielsen
,
Penrose Studios
,
Phil Lelyveld
,
River Studios
,
Robert Stromberg
,
Samsung
,
Secret Location
,
Six Flags
,
Social VR
,
Sports
,
The Martian VR Experience
,
Time Warner
,
UTA
,
Vantage.tv
,
Virtual Reality
,
Virtual Reality Summit