On June 26th at USC's Town & Gown, ETC@USC convened its annual dinner with studio technology leaders that celebrated the think tank's 25th anniversary, and honored Dean Elizabeth Daley with the Bob Lambert Technology Leadership Award. The event was presented by Western Digital, with supporting sponsors Equinix and Salesforce, and featured a panel discussion with the technology leaders of 20th Century Fox, Marvel Studios, Paramount Pictures, Sony Pictures Entertainment, Universal Pictures and Warner Bros.
ETC executive director/chief executive Ken Williams noted that for the last 25 years, in association with USC's School of Cinematic Arts, the media & entertainment think tank has provided a unique neutral forum to discuss important trends and create initiatives to help the industry advance. He described the key role that sponsors play in providing new and better solutions for the industry for all stages of production and new technologies.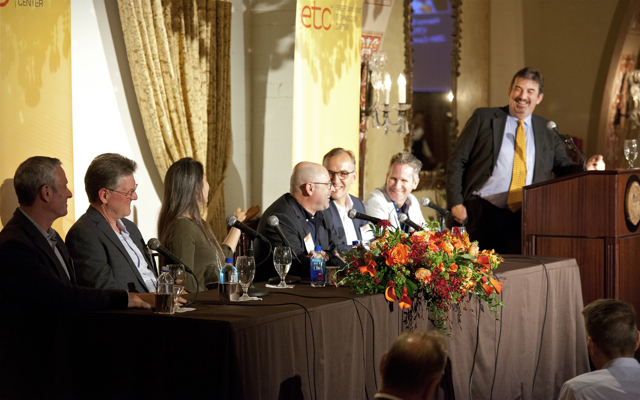 "We're in the second year of exploring big data, machine learning and artificial intelligence in the M&E space," he said, noting that ETC is also busy with its continued initiatives in advanced production technologies and immersive media.
Williams briefly went over the history of ETC, noting how the development of digital cinema was what brought all the studios on board. He also honored chief administrative officer Edie Meadows, who has been with ETC virtually since its inception.
Western Digital senior director of strategic markets & alliances Stefaan Vervaet spoke about how his company is focused on media and entertainment worfklows, with the goal of being at the forefront of innovation. Western Digital sold 100 exabytes of storage in the last three months, he reported, which highlights the immense growth in storage.
"We're a partner-driven company," said Vervaet, extending the invitation to everyone in the room to work with the company. "We're interested in machine learning, new video technologies and we're looking to build out labs."
Supporting sponsors Equinix and Salesforce also addressed the group. Equinix senior director of sales Jeff Bender noted that his company is celebrating its 20th anniversary of providing data services. "Today, we're the global leader, operating over 200 sites around the world, with 90 percent of Internet traffic going through Equinix," he said. Equinix is pleased to be an ETC sponsor, he added, pointing out the growing importance of AR, VR, IoT and robotic process automation.
Amruta Moktali, Salesforce vice president of product management for the company's Einstein Analytics, spoke about how "the Salesforce economy creates millions of jobs." Intelligence is transforming the customer experience, she said, with AI's impact on marketing and advertising in the M&E industry. "Personalization will be a big part of this," she added.
USC School of Cinematic Arts dean Elizabeth M. Daley (above, right) was honored with the Bob Lambert Technology Leadership Award. Daley, the founding dean of ETC, has been SCA dean for 27 years, the longest tenure of a dean at USC. She was also the inaugural holder of the Steven J. Ross/Time Warner Dean's Chair, founding executive director of the USC Annenberg Center for Communication and serves as the executive director of the USC Institute for Multimedia Literacy.
In accepting the award, Daley noted the importance of the intersection between technology and the creative. "We've got to work together," she said, noting how content creators and technologists need each other's expertise. She recognized senior associate dean Marlene Loadvine, thanked Williams and urged everyone to "keep going!"
"It's the most exciting time I can imagine in this industry," she concluded.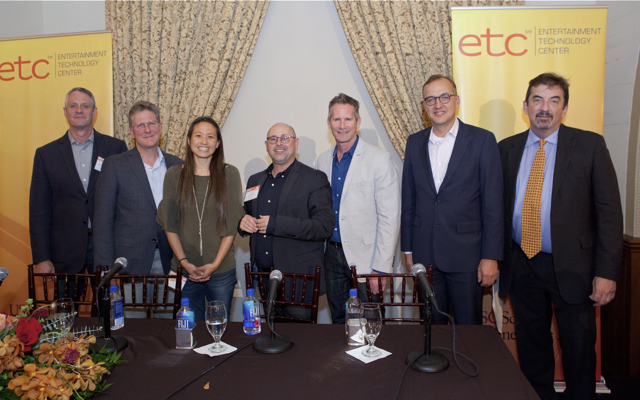 Last, the event featured a panel discussion with 20th Century Fox CTO Hanno Basse; Universal Pictures VP of creative technologies Annie Chang; Marvel Studios head of technology Eddie Drake; Sony Pictures Entertainment CTO Don Eklund; Paramount Pictures EVP worldwide technical operations Anthony Guarino; and Warner Bros. EVP digital product, platform & strategy Justin Herz.
Panelists discussed the current opportunities enabled by technology, such as re-use of digital assets, the evolving impact of the cloud and cloud workflows, the impact of big data and artificial intelligence, and the disintermediation of distribution channels.
Topics:
20th Century Fox
,
Amruta Moktali
,
Annie Chang
,
Anthony Guarino
,
Bob Lambert
,
Don Eklund
,
Eddie Drake
,
Edie Meadows
,
Einstein Analytics
,
Elizabeth Daley
,
Equinix
,
ETC@USC
,
Hanno Basse
,
Jeff Bender
,
Justin Herz
,
Ken Williams
,
Marlene Loadvine
,
Marvel Studios
,
Paramount Pictures
,
Salesforce
,
Sony Pictures Entertainment
,
Stefaan Vervaet
,
Universal Pictures
,
USC School of Cinematic Arts
,
Warner Bros.
,
Western Digital