A French company that creates image-processing software and an industry measurement for sensor quality just released DxO ONE, a $600 sensor and lens that plugs into the iPhone camera. DxO Labs created the ONE to feature a 1-inch image sensor (that's six-and-a-half times bigger than the iPhone 6's native sensor) and the equivalent of a 32mm fixed lens whose aperture opens to F1.8. The resulting 20.2-megapixel images are a considerable improvement over photos taken with the iPhone camera and competitive with those taken by pro level DSLRs.
The Wall Street Journal also reports that, although better photos usually come from a bigger, heavier camera, the DxO ONE is "half the size of a deck of cards." WSJ compares the DxO ONE sensor to "about the same as in Sony's $800 compact RX100 III."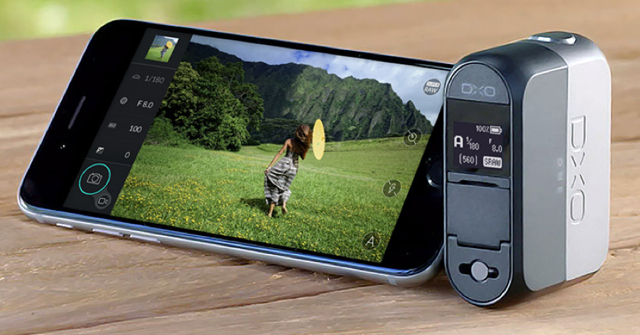 "The DxO ONE satisfies mobile photographers' dreams of a pocket-size connected camera that can match many of the pro capabilities of a digital SLR camera," suggests WSJ, which notes that there's enough detail to make jumbo-sized prints as well as "take portraits with depth [and] capture luminous night scenes."
The only drawback is battery life. The battery is sealed, which means it can't be swapped out with another one for more power. In the test conducted by WSJ, the camera lasted for "just about two hours of heavy use." DxO says the camera, which shuts off automatically to save power, is good for about 200 photos.
The DxO ONE also records audio and full HD video. To test it, the WSJ reporter took the DxO ONE and the Canon T4i DSLR to an outlook over the Golden Gate Bridge. The photo from his iPhone 6 was only "ho-hum… showing lots of low-light noise." Although the Canon showed a better range of colors, the DxO ONE was able to "capture the rich color of the sky, and the swirl of the fog across the bay."
The conclusion? "The sheer size of the DxO ONE's lens and sensor make it hard to top in the near future. Mobile photography and pro-level photography are no longer a contradiction."
Topics:
Audio
,
Battery Life
,
Camera
,
Canon
,
Canon T4i
,
Digital SLR
,
DSLR
,
DxO Labs
,
DxO ONE
,
France
,
Full HD Video
,
Golden Gate Bridge
,
HD
,
Image Sensor
,
Images
,
iPhone
,
Low Light Noise
,
Mobile Phone
,
Mobile Phone Photography
,
Mobile Photography
,
Photos
,
Professional Photography
,
Sensor
,
Sony
,
Sony RX100 III
,
Video