Disney, with Lenovo, just released a new augmented reality kit for "Star Wars: Jedi Challenges," which retails for $200 and includes the Lenovo Mirage AR headset, AR-powered lightsaber controller and LED puck for motion tracking. The headset relies on a phone for graphics rendering and can work with the most recent Android and Apple iOS phones. The phone is placed above the user's field of view, and the image then mirrored on a transparent plane, allowing her to see the environment combined with "Star Wars" games.
Variety reports that, "the lightsaber consists of a realistic replica of the handle with a small LED propped on top" that is "magically expanded" after donning the headset.
"Star Wars: Jedi Challenges" launches with three games: "your basic lightsaber combat against a number of enemies, including Kylo Ren and Darth Vader; a strategic combat game [that] allows you to command troops to fight against the Empire as they fight on your living room floor;" and Holochess as known from the franchise. It will sell at Best Buy, Disney Stores and on Disney's and Lenovo's websites.
After a brief demo, the reviewer said, "the headset did deliver on its basic promise," with smoothly rendered AR overlays that were also "bright enough to make for immersive game-play, but still offer a view of the environment around you."
According to Disney advanced development vice president Mike Goslin, the company "already has a multi-player mode working in its labs, which would make it possible for two players to duel each other with their lightsabers," and he also "hinted at plans to eventually bring other Disney franchises to the headset as well."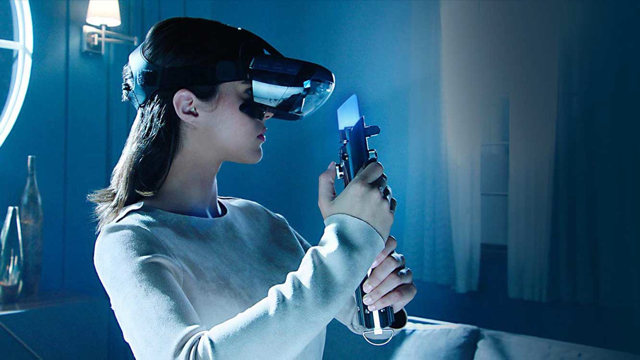 PCWorld also reviewed "Star Wars: Jedi Challenges" and deemed it "augmented reality done right," easy to set up and use and at an affordable price. Compatible smartphones are "iPhones 6 and up, the Samsung Galaxy 7-series and up, and Google Pixel phones, with more being added (most recently, iPhone 8)," although "interchangeable micro-USB, USB-C, and Lightning connectors" means it "could theoretically be used with any phone that can download the app."
It also notes that the position of the reflection produced by the smartphone in the headset "allows people to watch what you're seeing in your headset by looking into the front."
Topics:
Android
,
Apple
,
AR Headset
,
Augmented Reality
,
Best Buy
,
Darth Vader
,
Disney
,
Gaming
,
Google Pixel
,
Holochess
,
iOS
,
iPhone
,
iPhone 6
,
iPhone 8
,
Kylo Ren
,
LED Puck
,
Lenovo
,
Lightning
,
Lightsaber
,
Mike Goslin
,
Mirage
,
Motion Tracking
,
Samsung Galaxy 7
,
Smartphone
,
Star Wars
,
Star Wars: Jedi Challenges
,
USB
,
Video Game