Spotify's new feature, Discover Weekly, is a two-hour personalized music selection based on users' listening habits, delivered every Monday morning. It aims to introduce new music and artists to subscribers based on newly created case profiles. The playlists are much like recommended mixtapes generated by algorithms that evolve over time, relative to user data. The new feature is an attempt by Spotify to maintain its subscriber base as it faces growing competition from rival services such as Rdio, Deezer, Apple Music and others.
According to Matt Ogle, Spotify senior product head overseeing Discover Weekly, the previous year was spent building case profiles of every user to log playlists, albums and artists. Recommendations can now be made by dissecting a user's listening habits based on this data.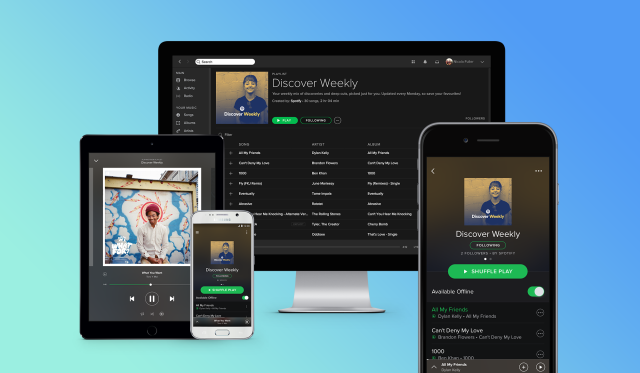 "Discover Weekly will evolve along with you over time, to get into the nooks and crannies of what you listen to," Ogle said. "There will be a fair amount of variation and we might go looking back deep into your library so you're not stuck with the same type of playlist each week."
"Now that Apple Music has launched — with a three-month free trial — the pressure is on," reports The Wall Street Journal. "These 'just for you' playlists come on the heels of a Spotify redesign that introduced playlists suggestions based on the time of day, and the addition of videos and podcasts."
Other streaming services — including Apple Music, Google Play Music, Rdio, Tidal and Deezer — offer their own variations of curated playlists, new music discovery and customization.
Topics:
Album
,
Algorithm
,
Apple Music
,
Case Profiles
,
Curation
,
Deezer
,
Discover Weekly
,
Discovery
,
Google Play Music
,
Human Curation
,
Library
,
Matt Ogle
,
Mixtape
,
Music
,
Personalized Playlists
,
Playlist
,
Podcast
,
Radio Station
,
Rdio
,
Recommendation
,
Spotify
,
Streaming Music Service
,
Subscription
,
Tidal
,
Video