Although the cryptocurrency known as stablecoin has garnered mainstream attention recently, with the Biden administration's call for federal guidelines, critics warn that a subset known as "algorithmic stablecoin" is a crisis in the making. Meanwhile, specific crypto brands like Bitcoin and Ethereum have seen prices drop — Bitcoin below the $40,000 per unit mark, while Ethereum shares dipped below $3,000. In fact, the entire cryptocurrency market is reported to have lost about $400 billion in April as part of what's being described as "selloff mode."
The cryptocurrency sector is estimated to have dipped 19 percent this year, according to The Wall Street Journal, with Forbes explaining the "top 10" — including "Binance's BNB, Ripple's XRP, Solana, Cardano, Luna and Avalanche," along with Ethereum and Bitcoin —  led the plunge. WSJ says crypto stocks have performed worse than cryptocurrencies.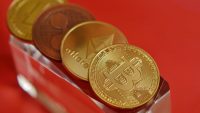 "Coinbase is off 40 percent so far this year as trading volume sinks; TeraWulf, Marathon Digital and Riot Blockchain are down sharply as well," writes WSJ, referring to those stocks as "the picks and shovels of the cryptocurrency world," and "a worse bet lately than cryptocurrencies themselves." WSJ characterizes the entire cryptocurrency market as "in selloff mode recently, even as hundreds of millions of people now trade Bitcoin, ether and other digital assets."
Advocates of algorithmic stablecoin say the currencies are preferable to the conventional type because "they aren't run by a single centralized entity. Instead, they run autonomously on blockchain-based networks, relying on traders who could be anywhere in the world" who usually keep them tied to the U.S. dollar, WSJ writes in a separate article, noting by design it's "more difficult for regulators to control algorithmic stablecoins, often seen as an advantage in crypto circles."
The Biden administration in March called for a roadmap for responsible crypto development, and this month Senator Pat Toomey (R-Pennsylvania) of the Senate Banking Committee released a proposed regulatory framework for stablecoin. While "U.S. regulators have stepped up their scrutiny of stablecoins in recent months," they've "largely focused on asset-backed coins," rather than those algorithmically engineered, WSJ reports.
"Algorithmic stablecoins are getting better at keeping their link to the dollar and could eventually overtake their conventional peers," Sam Kazemian, creator of Frax, an algorithmic stablecoin partly backed by crypto assets, told WSJ, calling them "just as reliable as fiat-backed stablecoins." The article explains in detail how the algorithmic coins work, using as an example TerraUSD, "the most popular such coin."
Topics:
Algorithmic Stablecoin
,
Avalanche
,
Binance
,
Bitcoin
,
Blockchain
,
BNB
,
Cardano
,
Coinbase
,
Cryptocurrency
,
Ethereum
,
Fiat Currency
,
Finance
,
Frax
,
Joe Biden
,
Luna
,
Marathon Digital
,
Pat Toomey
,
Regulation
,
Riot Blockchain
,
Ripple
,
Sam Kazemian
,
Solana
,
Stablecoin
,
TeraWulf
,
TerraUSD
,
Tether
,
XRP