A group of Internet service providers including AT&T, Cablevision, Time Warner, Verizon and Comcast have teamed together to join a coordinated effort to address the ongoing problem of subscribers illegally downloading entertainment media such as movies, TV shows and music. The ISPs are implementing an alerts system based on "six strikes" that carry tiered degrees of penalty for their subscribers who choose to illegally access media.
"The Digital Millennium Copyright Act already requires ISPs to notify users of piracy complaints made by media companies," reports the Wall Street Journal. "But the new system, dubbed the Copyright Alert System, brings the major ISPs under one uniform program and for the first time involves a progressively assertive series of six alerts, starting with a letter or email about the infraction and escalating to where it may slow down a user's Internet connection."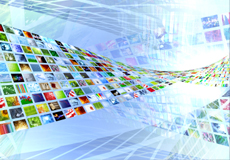 "The goal is to change behavior and get people to pay attention," explains Jill Lesser, executive director of the Center for Copyright Information, the group responsible for coordinating the initiative. Lesser suggests that the effort will most likely not deter "large scale pirates," but may make the more "casual infringer" think twice.
"The program will be driven by intelligence gathered by the Recording Industry Association of America and the Motion Picture Association of America, the trade groups for the music and media companies," notes the article. Additional content partners include the Independent Film and Television Alliance and the American Association of Independent Music. The program has been in development for more than a year.
"Through the CAS, copyright owners send notices of alleged copyright infringement to participating Internet Service Providers… who then forward these notices to their Subscribers in the form of Copyright Alerts," explains the Center for Copyright Information website.
Repeat offenders will receive harsher penalties, although the ISPs are implementing different actions. For example, Time Warner Cable will lock down an offender's browser following four notifications, until the individual calls a number and agrees to stop. "Verizon's FiOS says it plans to slow down the Internet speeds of repeat offenders on the sixth time they are notified," explains WSJ. "Comcast won't slow down Internet speeds but it will ask repeat offenders to watch an educational video."
After six strikes, the ISPs can curtail use or terminate accounts. However, customers have the option of appealing claims at each stage.
A related article from ABC News points out that the program's "mitigation" steps has drawn opposition from digital rights groups such as the Electronic Frontier Foundation. "Just because content is copyrighted doesn't mean sharing it is illegal. It would be better to have a rigorous process that ensures the use identified is actually infringing," said the EFF in a post this week. "We are disappointed if not surprised by the tenor of the CCI's approach to surveillance and education."