Twitter is taking another step toward TV integration, as new partners have signed on to leverage the social service and Comcast's SEEiT platform. Originally available for Comcast Xfinity and networks owned by NBCUniversal, new partnerships will allow subscribers of Time Warner Cable, Charter and Cablevision Optimum to use SEEiT via set-top boxes. Additionally, networks such as ABC, AMC, Fox and FX will use SEEiT to help steer access to their programming.
According to Comcast, the new partners include ABC Entertainment Group, A+E Networks Group, AMC Networks Inc., Cablevision's Optimum TV, Charter Communications, Crown Media Family Networks, Discovery Communications, Fox Networks Group and Time Warner Cable.
SEEiT was originally developed by Comcast and launched on Twitter. It is designed to connect social conversations to TV content and help drive viewership of shows, movies and sports.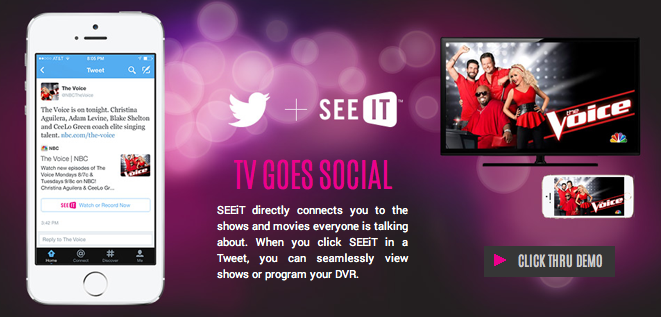 "When we developed SEEiT, we always intended to share it with other video distribution partners, television networks, apps and websites," said Sam Schwartz, chief business development officer for Comcast Cable. "Twitter was an ideal launch partner for us given the number of TV-related conversations happening there, and we're encouraged by the early results during our 'preview' period."
"SEEiT essentially lets you use Twitter conversations to record or turn on television shows," explains The Verge. "If NBC's 'The Voice' tweets, for example, users will be presented with a 'See It' button immediately below the tweet. Clicking that will forward them to their Web browser, where they'll have the ability to record the episode, set a reminder for when it's coming on, watch the program on their mobile device, or flip their cable box to the channel in question. It's a way of taking a little friction out of the process, turning Twitter into an ad-hoc remote control in the process."
"SEEiT originally launched in a limited preview last month with the Syfy shows 'Haven' and 'Naked Vegas,' and has since expanded to include a wider array of programming including shows from NBC, MSNBC, and the USA Network," notes The Verge. "The new partners announced today could join the platform as soon as the first quarter of next year."
Topics:
A+E
,
ABC
,
Alert
,
AMC
,
App
,
Cable
,
Cablevision
,
Charter
,
Comcast
,
Crown Media
,
Discovery
,
Distribution
,
Distributor
,
DVR
,
Film
,
FOX
,
FX
,
Mobile
,
Movie
,
MSNBC
,
NBC
,
NBCUniversal
,
Network
,
Optimum
,
Provider
,
Record
,
Reminder
,
Remote
,
Schwartz
,
SEEiT
,
Social
,
Social TV
,
Sports
,
STB
,
Syfy
,
Television
,
Time Warner
,
TV
,
TWC
,
Tweet
,
Twitter
,
USA
,
Xfinity