At this week's CineEurope exhibitor conference in Barcelona, Spain, NEC announced its new $170,000 laser projector will be available this fall, perhaps beating other manufacturers in the race to deliver the market's first laser illuminated projection system. Installations of the NC1040L are slated to first appear at Japanese auto manufacturers. The company says it has also fielded interest from cinema exhibitors in European cities.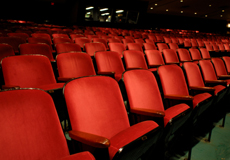 "A number of vendors are recommending developing laser-illuminated projection technology to make the screens brighter," writes Adrian Pennington for The Hollywood Reporter. "Proponents say laser light offers additional advantages, including lower operating costs, reduced power consumption compared to the xenon lamps currently in use, and increased system lifespans. Still, regulatory issues remain for the technology because the FDA monitors the use of lasers."
"According to NEC, its new laser-illuminated DLP unit is 4K ready, 48 and 62 fps capable and boasts a color space that exceeds the DCI specification," adds Pennington. "Its light source supposedly last up to 20,000 hours before needing to be replaced. It outputs 5,000 lumens of brightness to screens up to 31 feet, meaning that the projector would be used for smaller auditoriums, and would not be bright enough to be subject to regulation."
Meanwhile, Christie has also been demonstrating its laser projector — including a series of recent tests in Burbank — but it has yet to announce a release date and is not featuring its system at CineEurope.
"We expect no more than 100 installs by the end of 2014," explained Don Shaw, Christie's senior director of product management. "Laser projection will be considerably more expensive than xenon-lamp projectors and therefore will be adopted first at premium, high-grossing sites which already offer 4K or high-specification audio or giant-format experiences."
"This technology is still at a very early stage," said Olivier Pasch, Sony's head of European digital cinema sales. "Laser will not be the perfect light source any time soon because of its cost, so it is only likely to be adopted in the very biggest auditoria."
Press Release:
NEC Display Solutions to present the latest digital cinema technology and display advancements at CineEurope 2013
Topics:
3D
,
4K
,
AMC
,
Barcelona
,
Burbank
,
California
,
Christie
,
CineEurope
,
Cinema
,
DCI
,
Digital Cinema
,
Europe
,
Exhibition
,
Exhibitor
,
FDA
,
Japan
,
Large Format
,
Laser
,
NEC
,
Pennington
,
Power
,
Projection
,
Projector
,
Spain
,
Theater
,
Xenon