Intel, Broadcom and other chip makers are working to develop the next major advance in cellular network technology, a topic of discussion this week at the Mobile World Congress in Barcelona. Spurred by market leader Qualcomm and rivals that hope to reduce its dominance, companies are demonstrating extensions of the tech presently used in the fastest networks. One new service, LTE Advanced, is expected to offer download rates of 300 megabits per second, four to six times faster than current LTE.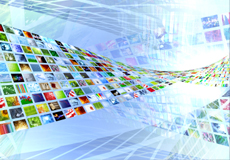 "The technology could put long-range cellular networks in rough parity with today's short-range technologies, such as Wi-Fi, which are ordinarily much faster," reports The Wall Street Journal. "Actual speeds experienced by users are typically far slower than the theoretical figures. And it remains unclear whether and when cellphone carriers might choose to upgrade their networks to the faster technology."
While it is unclear whether carriers will upgrade to the faster technology, many believe it will be necessary in order to remain competitive in the market.
Since Qualcomm has a near-monopoly on LTE chips, the company has a powerful reason to keep raising the bar. "Forward Concepts, a research firm, estimates in 2013 Qualcomm commanded 94 percent of a market valued at $5 billion that's expected to more than double to $11.9 billion by 2017," notes the article.
Intel, Broadcom, Nvidia, MediaTek, Marvell Technology Group and Spreadtrum Communications are among the companies who are looking to break into the LTE chip industry.
LTE Advanced has the potential to reduce data traffic jams and make networks operate more efficiently.
Topics:
Advanced
,
Barcelona
,
Broadcom
,
Carrier
,
Cellular
,
Chip
,
Competition
,
Congress
,
Data
,
FAST
,
Forward Concepts
,
Intel
,
Jam
,
long-range
,
LTE
,
Maker
,
Marvell
,
MediaTek
,
Mobile
,
Network
,
Nvidia
,
Power
,
Processing
,
Qualcomm
,
Short-Range
,
Smartphone
,
Spain
,
Speed
,
Spreadtrum
,
Technology
,
Traffic
,
Wi-Fi
,
World
,
Worldwide