On Sunday, CES "unveiled" its Innovation Award winners for the year, in a room also crowded with numerous startups eager to showcase their technologies. This year was, again, a plethora of self-care, health-oriented products as well as many related to smart homes and home security. The 31 companies/products honored this year for "best of innovation" fell into the categories of digital imaging/photography, smart home, smart energy, wearable technologies, computer hardware, virtual reality and video displays among others.
The CES Unveiled event highlighted several honored products including LG V40 ThinQ (below), the latest model in LG's flagship V series that offers a large OLED display, triple rear cameras and dual front cameras. According to LG, that makes it the first premium smartphone with five cameras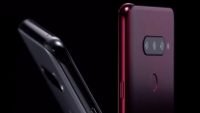 In AR/VR, PLOTT offered the LetsPlott extended reality platform, which allows the user to design in AR with real world dimensions, videos and links and then bring the plans to the real world with hardware that provides "turn-by-turn directions, eliminating the need for math."
Nvidia was honored for its new GeForce RTX GPU aimed at gaming (more on that in our post on Nvidia's press conference). AQUIO has Bluetooth waterproof speaker bottles: stainless steel bottles with removable Bluetooth speakers for music and hydration from one device. The Leica BLK3D real-time, in-picture 3D measurement is a handheld reality capture device that produces easily shareable 2D images embedded with accurate 3D spatial data.
Onboard software offers edge detection that enables a point, click and tap-to-measure user experience. Scalys BV was honored for  its TrustBox, a military-grade secure router and IoT gateway for safe and trusted communication with the connected world.
Other innovators honored for products included Energysquare's universal wireless charger for laptops, Innoviz Technologies for its InnovizOne Auto-Grade LiDAR and computer vision self-driving technology; Insta360 for its Pro 2 digital imaging/photography product (below); Migu Co. and iFLYTEK's Mobius Elite, which are smart modular true wireless earbuds. Sony also was honored for its WH-10000XM3 headphones and Samsung Electronics America for it's Window video display and CRG9 49-inch super-wide monitor.
Some of the more whimsical products included Solar Cow from Yolk, a Korean company that provides free electricity for rural African parents to charge their cell phones, in exchange for allowing their children to go to school. The concept is already being tested in a village in Kenya and Yolk is looking for NGO and CSR support. French company BeeLife has also come out with CoCoon, a new beehive that controls internal temperatures with organic materials, with an added technology that kills the varroa mites that have been creating Colony Collapse Disorder.
Elsewhere, at CES Unveiled, a suitcase follows its owner (also shown last year), a machine folds your T-shirts, a mirror identifies and tracks facial flaws, and, for your grandmother, a shoe with an embedded battery will alert you if she falls.
Topics:
AQUIO
,
Augmented Reality
,
BeeLife
,
CES 2019
,
CES Unveiled
,
CoCoon
,
Computer Vision
,
Earbuds
,
Gaming
,
Innoviz Technologies
,
Insta360
,
Leica BLK3D
,
LetsPlott
,
LG
,
LG V40 ThinQ
,
Lidar
,
Migu
,
Monitors
,
Nvidia
,
Nvidia GeForce RTX
,
PLOTT
,
Samsung
,
Scalys BV
,
Smartphones
,
Solar Cow
,
Sony
,
TrustBox
,
Video
,
Virtual Reality
,
Yolk