The sluggish consumer adoption of virtual reality has pointed to a broader hesitation with immersive technologies that separate the user from their environment. In response, a niche market has evolved for technologies that unobtrusively live on the body while contributing an augmented sensory experience when needed. (See earrings that also offer directional audio from a company called Nova, for instance.) The Japanese exhibit section of the CES Eureka Park startup arena, however, showcased a more environmentally integrated — although still individualized — vision of immersion.
Aromajoin, a digital scent technology firm, offers a directional scent shooter (as opposed to a scent diffuser) that uses six basic scent capsules to create a range of chemical scent configurations. Scent, which is the sensation most closely associated with our limbic systems, has the ability to elicit strong emotions when used properly — thus providing a helpful storytelling complement for sensory immersion.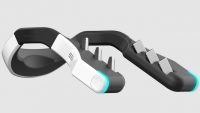 AromaPlayer, a web application powered by the company's proprietary Aroma Shooter tech, enables creators to cue specific scents in sync with specific visual beats. The scent cue can be added on a video's timeline just as a sound clip might be, with the option to modulate the exact scent as well as timing and duration.
Scent as a storytelling tool can be a challenge, as the brain's ability to process scent and taste isn't as targeted as its ability to process sight and sound. This is compounded by the fact that scents are formed by chemicals that can linger in the air, diluting the specificity of new scents.
The "lingering" typical of scent diffusers is caused by the use of liquid as a medium for the scent; Aromajoin's scent technology uses a proprietary "dry and solid" scent that can dissipate faster, enabling a scent switching speed of 0.1 seconds.
Directionally focused sensory experiences extend to environmentally located audio with Parso speakers from Tokyo-based startup AFUR, also found within the Japanese exhibit area. Unlike typical speakers with directivity angles of around 90 degrees, the arso speakers offer directional audio at a 10 degree angle, enabling sound to be directed to a single individual.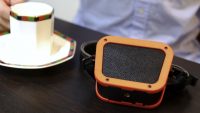 While directional audio is not new, Parso's speakers are wireless, small enough to be wearable, and depending on their positioning can offer directional stereo sound. The speaker is also marketed as being compatible with the elements and able to be used while biking or camping.
Together, both Aromajoin and Parso point to a desire for environmentally-based personalization of sensory experiences that enable immersion. Less obtrusive than on-the-body immersive technologies, these spatially located hardware elements also point to a future of augmented reality that could move beyond a predominantly visual experience.
Related:
I Used These New Smart Earrings to Listen to Music — They Totally Surprised Me, Tom's Guide, 1/5/23
Aromajoin Brings Videos to Life by Squirting Your Face with Smells, TechCrunch, 1/3/23
AFUR to Demo Parso, Wearable Speaker That Only You Can Hear, at CES, Cerebral Overload, 12/17/22
Topics:
AFUR
,
Aroma Shooter
,
Aromajoin
,
AromaPlayer
,
Audio
,
Augmented Reality
,
CES 2023
,
Directional Audio
,
Earrings
,
Eureka Park
,
H1 Audio
,
Immersive
,
Japan
,
Mixed Reality
,
Music
,
NOVA
,
Parso
,
Scent
,
Sensory
,
Sound
,
Speakers
,
Stereo
,
Tokyo
,
Video
,
Virtual Reality
,
Wearable
,
Wireless