Samsung Electronics announced its new $60 SmartThings Station, which the company describes as "an easy-to-use, affordable smart home hub and fast charging pad." The product is designed to provide consumers with "simple control and interoperability of multiple connected devices." SmartThings Station is one of numerous solutions touted at CES that are compatible with a growing collection of smart home products, including those that are labeled as Matter devices. The Matter home automation standard, which helps connect devices built with the Thread low-power mesh networking protocol, had a significant presence at CES.
"The number of devices in a connected home continues to grow, especially in light of the recent Matter standard launch," said Jaeyeon Jung, EVP and head of SmartThings for Samsung in a company release. "We're proud to play a role in making it easier to embrace this exciting technology."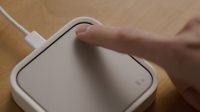 According to The Verge, the Station is "the first product to be released with Matter built in. It will be a Matter controller to onboard Matter smart home devices to your home network using any Matter-compatible app, including Apple Home or Google Home. It's also a Thread Border router alongside a Zigbee SmartThings hub and has Wi-Fi and Bluetooth radios built in. There is no Z-Wave support."
The set-up is meant to be simple. Users are guided through the connection process via their smartphones with the option to scan QR codes to easily onboard devices. Users can then automate pre-set routines via a mobile app, eliminating the need to manually control household devices such as lighting, door locks and thermostats.
"With a press of the Smart Button on the SmartThings Station," notes the release, users can activate routines. "For example, when it's time for bed, a quick tap could trigger a routine for sleep — which could turn off the lights, close the blinds and lower the temperature. Or, if a movie night is on the cards, a movie routine could turn on the TV and dim the lights."
The device "doubles as a 15-watt wireless charging pad, which is more than enough power to charge an Android or iOS device as quickly as possible," notes CNET. "If you like, you can tell it to send you an alert when a device is fully charged."
Samsung is emphasizing the company's ecosystem of products and solutions. The SmartThings Station is integrated with SmartThings Find, an asset tracking service that assists in locating misplaced devices. The hub provides Samsung Galaxy users with the ability to track registered devices — phones, tablets, watches, earbuds — as well as items that have a Galaxy SmartTag attached.
The Station will be available in black or white when it comes to the U.S. in February, The Verge reports. It will cost $59.99 for the standard unit or $79.99 for a version featuring a USB-C adaptor.
Topics:
Android
,
App
,
Apple Home
,
CES 2023
,
Charging Pad
,
Galaxy SmartTag
,
Google Home
,
iOS
,
Jaeyeon Jung
,
Lighting
,
Matter
,
QR Code
,
Router
,
Samsung
,
Samsung Galaxy
,
Smart Home
,
Smart Hub
,
Smartphone
,
SmartThings
,
SmartThings Find
,
Smartwatch
,
Standard
,
Tablet
,
Television
,
Thermostat
,
Thread
,
USB-C
,
Z-Wave
,
ZigBee